Hewlett Packard Enterprise has announced a partnership with the American subsidiary of NTT Communications. As part of the arrangement, HPE customers in the US will get direct access to NTT Com's global portfolio of infrastructure and cloud solutions, which are primarily aimed at medium and large businesses.
HPE customers will also be able to directly purchase professional services delivered by NTT America, which include cloud migration, data center consolidation and infrastructure management.
HPE is a part of the former Hewlett Packard business that focuses on servers, storage, networking, security and corporate services. Printers and the PC business are now the responsibility of the aptly named HP Inc. Separation of the two parts of the company was officially completed in November.
Friends with benefits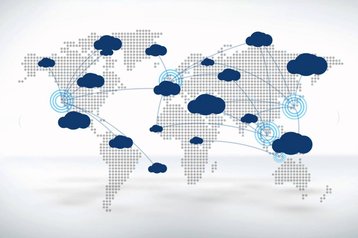 Former Japanese state monopoly NTT (Nippon Telegraph and Telephone Corporation) is the largest telecommunications company in the world in terms of revenue. Its subsidiary NTT Communications runs a network of more than 130 data centers worldwide, serving 196 countries and regions.
NTT Comm's cloud solutions are powered by HPE technology and delivered over NTT's own Tier I fiber network, which was one of the first to deploy software defined networking (SDN) technologies at scale.
These cloud solutions would fit some of the largest US companies in vertical industries such as healthcare, finance, media, retail and manufacturing.
"This new partnership deepens our long-standing relationship with HPE, and allows us to combine our strengths to unlock hidden value, unleash innovation, ignite sales growth and capture opportunities in key customer segments and markets," said Jeffrey Bannister, executive vice president of Global Enterprise Services at NTT America.
"As one of HPE's few global IaaS partners, we will deliver outcome-driven cloud solutions based on integration of best of breed technologies within our infrastructure to help our joint customers stay one step ahead of their competition."
HPE customers can explore NTT Comms' products immediately through the HPE Partner Ready Program for Service Providers.
Earlier this year NTT Comms announced a similar deal with Dell, offering its infrastructure through the Dell Cloud Services Partner Program.
Meanwhile HPE last week agreed to resell Microsoft Azure as the "preferred cloud alternative". The company is set to shut down its own Helion public cloud – which was only available in the US – before the end of January 2016.