HPE has launched a new type of server memory that possesses all the speed of conventional DRAM but can reliably keep data once the power has been switched off, transforming it into a high-performance storage device.
Persistent Memory features a bank of DRAM chips on one side and a bank of NAND chips on the other – in the event of a scheduled shutdown or a power outage, information is automatically backed up on flash, using energy from batteries that are already part of HPE's ProLiant servers.
This is one of the firs examples of Non-Volatile DIMM, or NVDIMM. HPE believes Persistent Memory is a herald of a new category of ultrafast storage that could radically change the way we approach server workloads - so fast that "software becomes the bottleneck", in the words of David Calmers, chief technologist for HPE's Enterprise Group in EMEA.
Initially, Persistent Memory will be available as part of two high-end, generation nine ProLiant servers, which have been announced on Thursday. At launch, the size of NVDIMMs is limited to 8GB but larger capacity versions are coming in the future.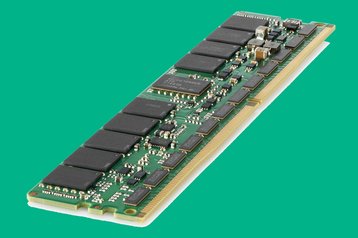 Ultimate storage

DRAM – DDR4 in particular – is really fast, but requires a lot of power, produces a lot of heat and loses all information once the machine is turned off. Flash can store data without using any electricity, but it is too slow for in-memory databases, and while the latest chips last considerably longer than their ancestors, even enterprise-class flash is only good for about 30,000 read/write cycles before the memory cells wear out.
HPE has combined the two, to produce a device that has the properties of both high performance and persistence. The company doesn't make its own DRAM chips or flash memory, but Calmers assured DatacenterDynamics that all of the important IP involved in the making of Persistent Memory belongs to HPE.
He explained that about 50 percent of the work carried out on the modules wasn't hardware design, but software development – after all, it's not easy to make BIOS recognize your DRAM as storage.
HPE was able to introduce its version of NVDIMM thanks to the presence of Smart Storage batteries inside certain ProLiant servers. Smart Storage battery is a 96W power source originally designed to protect data on the flash-backed cache module in its storage controllers.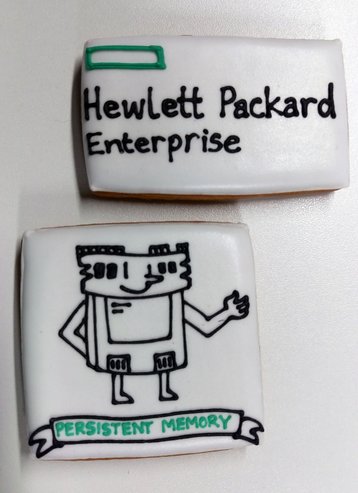 Being located closer to the CPU, Persistent Memory delivers 34 times more IOPS, 16 times more bandwidth and 81 times lower latency than a SAS-connected SSD. Gains over PCIe-based storage devices are lower, but still very impressive.
These devices will be available in the middle of 2016 with the new ProLiant DL360 and DL380 servers that also feature Intel's latest Broadwell chips, faster main memory and new SSD options. The list of compatible devices will eventually be expanded to include BladeSystem servers and Synergy servers.
According to Ian Stephen, VP and GM of HPE's server business in EMEA, the company has licensed its server technologies to other hardware vendors before, and could do it again with Persistent Memory.
The new devices have only a single drawback, the cost. A single 8GB stick of Persistent Memory is expected to cost around $800 per module, as opposed to $300 for conventional DDR4 RAM.