Hewlett Packard Enterprise has announced and released the HPE FlexFabric 5950 series, its latest "high-density and ultra-low-latency" top-of-rack (ToR) switches. 
The new FlexFabric switches were revealed at HPE Discover 2016 in Las Vegas, where Simon Huang, TME manager for data centers, explained to DatacenterDynamics the flexibility of the products.
More traffic off the server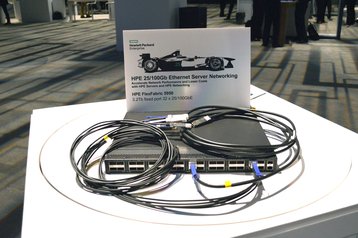 The switch has 32 100GB ports, but each one can be split to carry four times 25GB, Huang explained, so they can handle 25GB of traffic each from 128 servers. "This allows you to actually load a lot more traffic off the server," he said.
"These ports can also be backwards compatible with 40GB," he said. "You can use the similar splitter cable to make it like a 40GB port but split into four 10GB ports as well. So this is a switch that literally does 100GB, 50GB, 25GB, 40GB, 10GB. Every single speed that you can think about."
The switches are designed specifically for data centers and can be stacked, at which point an intelligent framework virtualizes them, so two or more switches can behave as oine switch, said Huang: "One control plane, one management plan, one single data plane, but actually split on two different physical chassis.
The virtualized switch also supports high availability, the link level redundancy, and can have in-service system upgrades.