Hewlett-Packard Enterprise (HPE) has unveiled a range of edge data centers designed in partnership with European critical infrastructure specialist Schneider Electric.
HPE Micro Datacenter is essentially a rebranded SmartBunker FX – a small, secure server enclosure that includes UPS, power distribution, cooling and monitoring tools, and can now be shipped fully populated with HPE's storage, network and compute equipment.
Edge data centers are an increasingly popular topic, thanks to a new generation of online services that put more emphasis on latency and quality of connections, and need their servers placed close to the end-user.
This approach also solves some of the problems associated with building data centers in large cities, where real estate is prohibitively expensive.
The announcement was made at the Gartner Data Center, Infrastructure and Operations Management Conference in Las Vegas.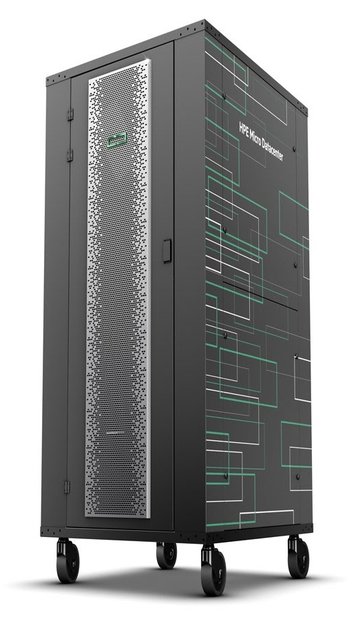 HPE gets edgy
Schneider launched SmartBunker FX in 2015, building upon the technology it inherited with the acquisition of AST Modular in 2014.
The enclosure offers a single rack that can fit between 23U and 42U worth of servers. It includes Symmetra UPS, InRow cooling, and NetBotz Rack access control and environmental monitoring.
The ruggedized casing is fire-resistant and insulated, so it can be placed outside of server rooms, saving valuable technical space.
HPE has enhanced the design with its own hardware, adding a choice of Converged System, Hyper Converged and Edgeline servers.
The HPE Micro Datacenter offers full remote management capabilities for both the IT and physical infrastructure components through StruxureWare DCIM software, so it can be run as a 'lights out' facility.
"As data is becoming increasingly impactful to data center performance and business success, edge computing has emerged as a compelling solution to reduce latency, meet IoT processing needs and deliver greater availability and reliability," said Kevin Brown, CTO at the IT division of Schneider Electric.
"Micro data centers provide a turnkey solution for edge deployments, complete with all the necessary IT and compute components to meet new data growth requirements and deliver connectivity demand."
The HPE Micro Datacenter is available worldwide from HPE and channel partners. Pricing will vary by customer configuration.