HPE has refreshed its ProLiant server range, adding support for Intel's latest CPUs based on the Broadwell microarchitecture.
The ninth generation of ProLiant hardware can now be shipped with Xeon E5-2600 v4 chips that feature up to 22 cores per die and offer up to 25 percent more performance while consuming up to 19 percent less power than the previous generation silicon.
Two of the updated servers – namely the top of the range DL360 and DL380 - will also support Persistent Memory, a new type of ultrafast storage that plugs directly into the DIMM slots and has all the speed of DDR4 DRAM.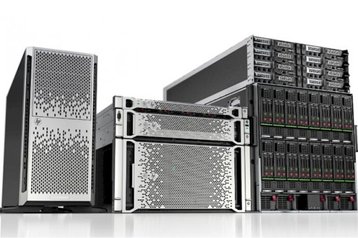 What's not to like?
According to HPE's Ian Stephen, VP and GM of the company's server business in EMEA, ProLiant is on the path towards becoming a workload-specific platform with lots of customization options and increasingly fine-grained management. This is a direct opposite to the approach taken by HPE's recently announced Synergy, a family of 'composable infrastructure' servers designed for hyperscale deployments and managed through simplified interface tools.
In line with this trend, the latest ProLiant refresh adds more muscle in every department. Compute-intensive tasks will appreciate the new Xeon chips that deliver up to a quarter more performance, while in-memory databases will be thankful for the massive 128GB LRDIMMs, twice the size of the previously available memory sticks.
And if you need faster memory, not just more of it, Broadwell now supports DDR4 memory speeds of up to 2400MT/s. For primary storage, HPE has increased the size of its NVMe solid state drives to 2TB, while keeping the standard 2.5-inch form-factor.
And finally, the new servers will include the latest version of the Trusted Platform Module 2.0, a dedicated cryptoprocessor designed to secure hardware by integrating cryptographic keys into the machine itself.
All of the new ProLiant Gen9 server options and related solutions are available immediately worldwide, except for Persistent Memory, which will begin shipping in May 2016.