American industrial giant Honeywell has revealed a new range of aspirating smoke detectors that improve detection accuracy and introduce features like touchscreen control and Wi-Fi connectivity as standard.
Made by its subsidiary Xtralis, VESDA-E VEP devices promise 1.5 times greater sensitivity than the previous flagship, the LaserPLUS range. They also offer up to six times better dust rejection to minimize accidental alarms.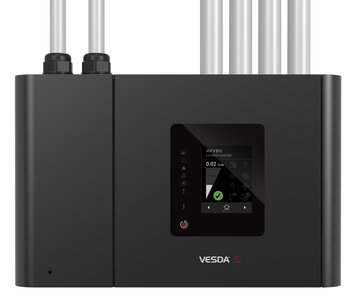 IoT against fire
VESDA technology - short for Very Early Smoke Detection Apparatus - was invented by Xtralis (then called IEI) in 1979. It involves continuous air sampling, with the central detection unit drawing air from different parts of the building through a network of pipes. Xtralis was acquired by Honeywell in April 2016, and its products were integrated into the Honeywell Security and Fire portfolio.
VESDA systems are frequently used in data centers because they can detect a fire much quicker than a passive smoke detection system. They also constantly monitor the accuracy of the detector itself.
The new generation of smoke detectors based on this technology adds features that are typical for today's 'smart' devices, like a color touchscreen to display status of the central unit, Ethernet and Wi-Fi connectivity, and automatic configuration.
VESDA-E VEP devices are fully compatible with the iVESDA app and the PC-based Xtralis VSM monitoring software.
They use the same mounting footprint, pipe, conduit and electrical connector positioning as VESDA LaserPLUS, but enable longer pipe runs for detector mounting, helping to reduce maintenance costs. Detector coverage has also been extended by up to 20 percent in high-ceiling environments.