The Western Digital company HGST has delivered a long-rpomised enterprise-class 10TB (terabyte) hard disk drive (HDD) for active archive applications, promising the world's densest storage systems.
The host-managed Ultrastar Archive Ha10 SMR HDD includes the HelioSeal technology which fills the drive with helium, and uses shingled magnetic recording (SMR) to increase storage density while keeping reliability and performance.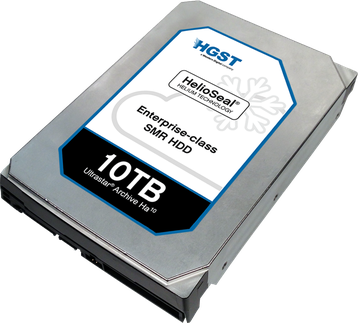 The shingling method
By overlapping or "shingling" the data tracks on top of each other, higher areal density can be achieved within the same physical footprint. 
Today, many hyperscale cloud providers are discovering that most of their active archive applications are already sequential, creating the ideal environment for SMR HDD. In HGST's opinion the capacity enterprise HDD market is adapting to this shift, creating demand for purpose built drives, making the Ha10 a good solution due to its capacity, data integrity and desired predictable performance. Currently, HGST estimates that active archive/deep archive applications are generating 20-35 percent of the data being stored today. Based on current customer data, HGST is projecting that this statistic will grow to more than 50 percent in the next five years.
 The drive is rated at two million hours mean time between failure (MTBF), offers a five-year limited warranty, a 10-15 unrecoverable reduced bit error rate, rotational vibration safeguards, and 600K load/unload cycles, making it good for active archive workloads. Customers who are driven by the capacity, performance and low TCO are already capitalizing on value of the HA10 HDD.
It is shipping first to cloud and OEM storage customers who have the in-house capability to develop the software required. Host applications need to be first sequentialized, which requires adjustments in the software stack to take advantage of the areal density gain, and consequently, the sequential write behavior of host-managed SMR. This not only enables predictable performance but also provides maximum control and arbitration at the host system level, which customers prefer.