The survey ship for a planned 14,000 km transpacific submarine cable has set sail. Funded by Amazon, Vodafone, REANNZ, and the American Samoa Telecomms Authority, Hawaiki Cable will connect Australia and New Zealand to the US mainland, along with Hawaii and potentially several South Pacific islands. It runs from Sydney and Mangawhai, through Oamu and to Pacific City, Oregon.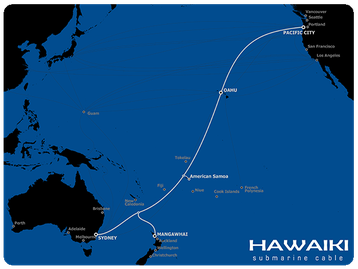 Sail away
Hawaiki Cable, built by Hawaiki Submarine Cable LP and TE SubCom, a subsidiary of TE Connectivity, is set for completion in mid-2018.
The carrier-neutral cable will deliver more than 30 Tbps of capacity using TE SubCom's C100U+ Submarine Line Terminating Equipment (SLTE), making it the highest cross-sectional capacity link between the US and Australia and New Zealand.
"Each stage of this groundbreaking project is important, but after very carefully planning our transpacific route and conducting an extensive survey of each landing site, we are extremely pleased to launch the marine route survey, which will give us data necessary to safely and properly deploy the system in the coming months," said Remi Galasso, CEO of Hawaiki.
Aaron Stucki, president of TE SubCom, added: "Before deploying a cable system, a marine route survey is conducted to gather the geophysical and geotechnical data needed to ensure the cable is buried safely and securely.
"It's a vital and significant step in the process of launching a new cable system, and we share in Hawaiki's excitement as our companies move forward with this project."