The consortium behind the Hawaiki Submarine Cable is planning to bring the latest transpacific network route online in June, having laid more than half of the fiber optic cable required.
Built by Hawaiki Submarine Cable LP and TE SubCom, and backed by Amazon, Vodafone, The Kiwi Advanced Research and Education (REANNZ) Network and the American Samoa Telecomms Authority, the Hawaiki Cable will link together Australia, New Zealand, New Caledonia, Fiji, Tonga, American Samoa, Hawaii and mainland USA. 
Full steam ahead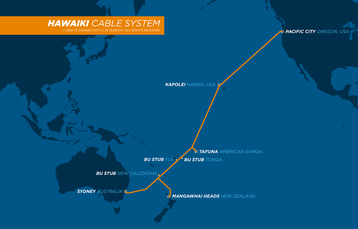 Once online, the carrier-neutral 15,000km (9,320 mile) network is expected to offer capacity of up to 43Tbps. Amazon's cloud subsidiary AWS is the first to have signed a capacity supply agreement to use the cable.
The project began in earnest in August 2016, when the survey ship conducting the initial route assessment set sail. Late last year, submarine communications systems supplier TE Subcom finished laying the cable through US waters, and started work on the route connecting Australia, New Zealand and Hawaii.
The cable landing stations in Pacific City, Oregon, the Hawaiian island of Oahu and Sydney, Australia, are already complete, while the landing in American Samoa is expected to be completed in March. TE Subcom plans to finish the submarine cable landing in Mangawhai Heads, New Zealand, at the end of the month.
The cable landing station in Oahu is yet to be installed by XSite Modular, and newly-rebranded Flexential (formerly known as Peak10 + Viawest following Peak10's acquisition of Viawest for $1.7bn) will serve as the US partner, housing the cable in Pacific City.
Remi Galasso, CEO of Hawaiki, said: "Landing the cable in its home country represents a major event for our team and I would like to take this opportunity to thank all our New Zealand partners for their continuous support. Hawaiki will bring huge benefits to New Zealand in terms of greater connectivity to Australia and the U.S., security of supply, diversity, and increased business opportunities for the telecom and IT industries."