German electronics manufacturer Harting and Japanese connector specialist Hirose are collaborating on a miniature version of the beloved RJ45 interface.
Intended for 10G Ethernet connectivity, the new standard is expected to offer system builders more flexibility when designing their Internet of Things -enabled kit.
The partners will work together across borders to develop, standardize and market the new connection technology.
Ethernet forever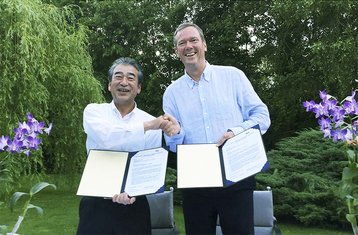 Hirose is headquartered in Tokyo, and has been making electric and electronic connectors for nearly 80 years. It was one of the companies responsible for shaping the original micro-USB, which was then adopted as standard by the USB Implementers Forum and endorsed by the European Union as the preferred method for charging mobile devices.
Harting is a family-owned business based in Espelkamp, Germany, which previously developed the world's first industry-compatible field attachable RJ45.
Now, the two businesses will unite their forces to bring about a smaller Ethernet connector, in hopes of eventually making this a standard too.
"As a form of the Internet of Things, there is one thing that 'Industry 4.0' requires above all else: an Ethernet connection to each and every 'Industry 4.0' component," explained Philip Harting, chairman of the board at Harting. "The standardization and international norms for new high-performance components and infrastructure is an essential requirement for market success and provides planning security."
"Our customers benefit from the bundled expertise of two technology leaders, on one hand, and global presence and customer proximity on the other," added Kazunori Ishii, president of Hirose.
The two companies plan to reveal further details on their cooperation in autumn at the electronica and SPS/IPC Drives events.