Gerald R. Ford International Airport has broken ground on a data center and operations center in Grand Rapids, Michigan.
The airport is building a new $7.7 million operations and communications center, which will include the company's data center as well as offices. The new facility is located on the east side of the airport's campus, and work is expected to be finished by the end of June 2022.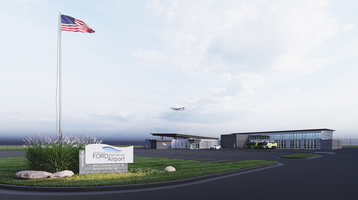 "The teams who will occupy this space are critical for our daily operations," said Tory Richardson, airport president, and CEO. "This new operations center will enhance communication, collaboration, and efficiencies for our teams. Without them, we wouldn't be able to provide the high-quality service and exceptional safety track record the Ford Airport is known for."
The new building will consolidate the airport's operations, dispatch, and communications teams, as well as the emergency operations center, into a new 11,600 sq ft (1,000 sqm) facility. The new building is designed to withstand extreme weather conditions, including winds up to 250 miles per hour, and will redundant technologies and communication channels to ensure services continue during emergencies.
"This project represents the culmination of years of efforts to realign and streamline our operations and public safety functions," said Dan Koorndyk, board chair of the Gerald R. Ford Airport Authority. "By bringing our teams under one roof, we'll be able to ensure we are providing the best possible service to our guests, tenants, and the greater West Michigan community."
DLZ of Michigan is serving as the project architect with Pioneer Construction of Grand Rapids serving as the general contractor.