Greenpeace has once again rated the world's largest digital businesses on their commitment to sustainable IT and renewable energy.
In the latest Clicking Clean report, the organization has congratulated data center operators Apple, Google, Facebook and Switch on their progress towards using 100 percent renewable energy but reprimanded AWS, and was extremely critical of Chinese hyperscalers Baidu and Tencent.
Video streaming service Netflix was also called out on its use of fossil fuels, while Oracle got the worst marks among American cloud providers.
The 102-page document looked at the energy footprints of large data center operators worldwide and analyzed nearly 70 online services, marking them on categories like energy policies, energy efficiency and transparency in the power supply chain.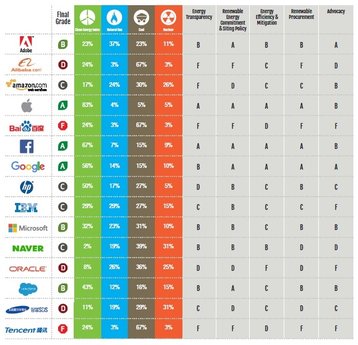 Carrot and stick
"Amazon continues to talk a good game on renewables but is keeping its customers in the dark on its energy decisions. This is concerning, particularly as Amazon expands into markets served by dirty energy," said Gary Cook, senior IT analyst at Greenpeace USA.
"Like Apple, Facebook, and Google, Netflix is one of the biggest drivers of the online world and has a critical say in how it is powered. Netflix must embrace the responsibility to make sure its growth is powered by renewables, not fossil fuels and it must show its leadership here."
According to Greenpeace, nearly 20 data center operators and major Internet companies have announced commitments to 100 percent renewable energy since the first Clicking Clean report was published in 2009.
Direct purchases of renewable energy by corporations in the US have exceeded 3.2GW in 2015 alone, with over two-thirds of this volume attributed to deals made by technology businesses.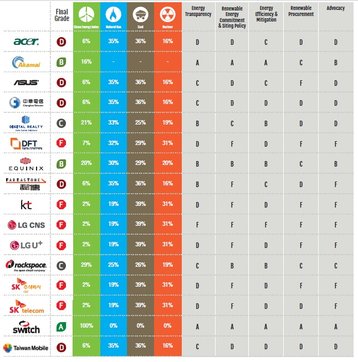 Greenpeace noted that Switch – a data center operator from Nevada known for its network of hyperscale facilities called SuperNAP – quickly became a leader in green IT, transitioning its data center fleet to renewables through both procurement and "aggressive advocacy".
Switch was followed by content delivery network operator Akamai and colocation provider Equinix – both got an overall 'B' for their efforts. Digital Realty and Rackspace were marked 'C', while DuPont Fabros scored an 'F' – performing worse than any other American company on the list.
The 2016 report was the first to add Asian tech companies to the mix, however the newcomers have not fared well: Korean ISP Naver was marked 'C', China Mobile and Alibaba received a 'D', and Tencent, Baidu, LG, KT Corporation and SK Telecom were bottom of the list with 'F'.
"Leading tech companies in the US have shown that clean power can be both good for the environment and for business. East Asian companies must step up to embrace that reality as well," said Jude Lee, senior climate and energy campaigner at Greenpeace East Asia.