Investment firm Great Grey Investment has bought the yet-to-be-completed Westpoort Data Center in Amsterdam, the Netherlands.
Great Grey Investments Data center (GGID) acquired the Westpoort data center development site from Caransa Groep in July.
Terms of the deal were not disclosed but Tikehau Capital provided financing to Westpoort Datacenter B.V. and Great Grey Investments Datacenter B.V. through its Tikehau Special Opportunities II fund (TSO II).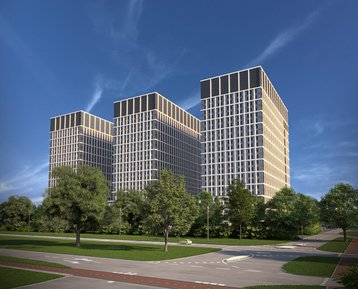 Ground was broken on the facility on the Donauweg street in Amsterdam's Westpoort in June 2021. When completed, the 100MW, 100,000 sqm (1 million sq ft) development will consist of three 12-story towers, the first of which is due to open in 2023.
Caransa first announced the development in November 2020 and said the facilities will be part of the local district heating scheme. Waste heat from the Amsterdam facility will serve the district heating network of Westpoort Warmte, a joint venture between Nuon, a Vattenfall company, and the Municipality of Amsterdam.
AI & HPC provider EscherCloud is due to be a key tenant of the facility and will implement sustainable cooling technology in the data center.
Caransa Groep previously developed the AMS1 data center, also called the Amsterdam Data Tower, located on the Science Park in Watergraafsmeer, which it reportedly owns and is occupied by Interxion.