GPX Global Systems has opened its second data center in Mumbai.
The new carrier-neutral location has 16MW of power and 60,000 sq ft (5,600 sq m) of space, but is described as an Edge facility. It takes GPX's Mumbai portfolio to 105,000 sq ft (9,754 s
Edge facility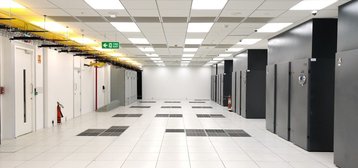 GPX says Mumbai2 has been certified as Tier IV, with a concurrently maintainable and fault-tolerant infrastructure, offering a 99.999 percent availability SLA. However, the site doesn't yet appear on the Uptime Institute list of Tier Certifications. The company's Mumbai1 facility does have a Tier IV Design certificate which was issued in 2012. Neither site has a Tier IV certificate for the final constructed facilities, according to the Uptime list.
The data center has 16MW of utility power, delivered over multiple 33kV feeds from several Tata Power stations, according to the GPX site. It's got N+1 power redundancy with 72 hours of onsite backup provided by Eaton UPS systems with lithium-ion batteries, that give 6MW of critical power. The racks can have densities of up to 15kW.
As befits the Mumbai climate, the facility has three independent cooling systems in an N+1 configuration, with each cooling system supplied with three chillers and dedicated supply/return pipes. Each cooling system has multiple CRAHs in an N+7 configuration, and each chiller (from Daikin) has its own independent UPS.

The data center can support 52U cabinets, and has connections to multiple carriers, and a reliable power system. It is connected directly to the nearby GPX Mumbai1 facility. with GPX's Data Center Interconnect network offering 1G, 10G, and 100G services.
"GPX is expanding its critical role in supporting digital transformation in India," said Nick Tanzi, CEO of GPX, promising that the new facility will have room for new customers as well as expanding space for existing tenants.
GPX describes itself as a leading provider, and the Mumbai1 facility is a major Internet center, hosting 12 telcos, more than 120 ISPs, four Internet Exchanges, eight cloud service providers, and "all:" the leading global CDNs and content providers.