Google has signed a deal to buy the output of a 10MW solar array in Tainan City, Taiwan. It's Google's first renewable energy contract in Asia, and the Taiwanese government has changed energy laws to allow it to proceed.
Google's data center at Changhua County, Taiwan, was opened in 2013 costing around $600m, with another $66.4m invested in 2015. The solar purchase is certainly smaller than the power used by the data center (similar sized data centers in the US are understood to use around 60MW) but will give Google a more stable long-term price for electricity, and reduce its carbon emissions in Taiwan.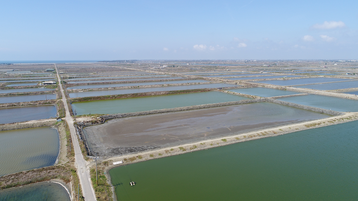 Laws amended
Worldwide, Google purchases more than 3GW of renewable power, more than enough to offset its energy use, and allow it to claim it is 100 percent renewable. In Taiwan, the company lobbied hard for a change to Taiwan's Electricity Act which would allow non-utility companies to buy renewable energy directly. Google is the first corporate power purchaser to act after the law was amended.
Taiwanese energy developer New Green Power will deploy the 40,000 solar panels at a fish farm at Tainan City, which is located 100 km south of Google's Changhua County data center. When completed, the panels will be connected to the same regional power grid, offsetting Google's energy use through a power purchase agreement.
The solar panels will be deployed in commercial fishing ponds to maximize land use. Poles will be mounted into the ponds to elevate the solar panels several feet into the sky, so fish and solar panels can coexist without loss of land or energy efficiency. The fish farm will be compensated for hosting the solar panels.
Taiwan has a goal to shut down its nuclear energy plants by 2025, and is working to obtain up to 20 percent of its electricity from renewable sources by that date. However, shortage of land was cited as an obstacle to the country achieving its target for solar photovoltaic generation.
"Our inaugural renewable energy project in Asia is an encouraging example of what's possible when forward-thinking government officials, local stakeholders and companies work together for a brighter future," wrote Mars Hanna, a senior lead of Global Energy Policy and Markets at Google in a blog post.
"A policy landscape offering a clear path to cost-effective renewable power procurement is essential as more people and more organizations look to access carbon-free energy. We applaud Taiwan for giving the green light to green energy initiatives like ours – the first of hopefully many more in the region."