Last year, Google spruced up a couple of its data centers with exterior murals made by local artists. Now it's back with more.
In Dublin, Ireland the company turned to illustrator Fuchsia MacAree, and in Council Bluffs, Iowa it enlisted Gary Kelley, who previously worked for for Time, Rolling Stone, The New Yorker, and Playboy.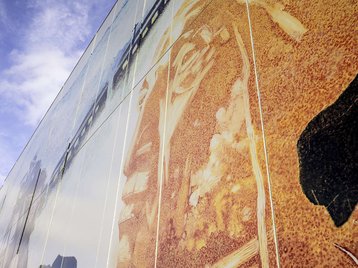 Mural makeover
With the Dublin data center cooled by fresh air rather than mechanical cooling, MacAree's work depicted a windy day in the city, with local landmarks like Grand Canal Square, Phoenix Park and Moore Street Market.
Kelley's mural represents the history of Council Bluffs as the American information hub, from Lewis and Clark to the Transcontinental Railroad.
Google held a ceremony unveiling the Iowan mural, with speeches from Council Bluffs' operations manager Chris Russell and Alphabet's executive chairman Eric Schmidt, where the company announced a $50,000 grant for the Council Bluffs school district, to be spent on arts education.
Also in attendance were Mayor Matt Walsh and Governor Terry Branstad, the longest-serving governor in American history. Late last year, Donald Trump nominated Branstad as the US Ambassador to China, but he has yet to be confirmed to the position.
While the murals do improve the look of the facilities, we at DCD are still on the hunt for some truly beautiful data centers. Help us pick the best ones, which will be featured in the next issue of DCD Magazine.