Google's new data center in Middenmeer, the Netherlands has gone operational this week. The newly completed data center opens following the company's announcement of a €1 billion investment in the country in June last year, and the expansion of its existing data center in Eemshaven, Groningen, which opened in 2016.
The new Middenmeer data center is located on the Netherlands' North Sea coast, close to Amsterdam. Both data centers support Google services such as Gmail, Google Maps and YouTube.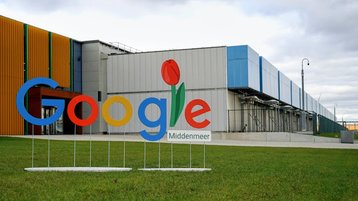 More compute per Watt
Google says the new data center was designed from the outset to minimize energy consumption, with the company claiming that it has been able to radically slash power consumption per unit of compute power with each new data center it opens.
A Google spokesperson confirmed to DCD that the data center uses air cooling, and does re-use waste heat to warm the office space for its 125 employees in the building. However, Google is is looking into other forms of waste heat re-use for the future.
"We have managed to make data centers more and more efficient," said Martijn Bertisen, country manager for Google Netherlands. "Compared to five years ago, Google now gets about seven times as much computing power from the same amount of energy, and the Google data centers are among the most energy efficient data centers worldwide."
The data center will be powered by renewable energy from four renewable energy supply agreements with providers in the area, representing around 130MW of capacity. These include supply from a wind farm and a solar park in Delfzijl, on the Netherlands' north-eastern border with Germany, as well as wind energy from two wind farms, Krammer and Bouwdokken in Zeeland.
Google's total data center investments in the Netherlands have now reached €2.5 billion, with the expansion of the company's Eemshaven data center expected to be completed in early 2021. The Eemshaven data center uses a combination of water from household waste and cold air for cooling. It is primarily powered by wind power from farms in Delfzijl, and the Netherlands' biggest solar park in Eemshaven.
The Netherlands was also the location of Google's third Cloud Platform zone – its name for Google Cloud Platform data centers – opened in early 2018.
Google – as well as Microsoft – has invested heavily in the Netherlands, according to Invest in Holland, due to a combination of the communications infrastructure, access to renewable energy sources and the pool of well-qualified local personnel. Proximity to Amsterdam's Royal Schipol Airport also enables direct access to the Netherlands from 82 countries, on 451 routes,around the world.