Google has opened its new data center in  its new server farm in The Dalles, Wasco County, Oregon. The long-planned doubling of its Oregon facilities coincides with a week in which the state's governor finally made clear that data centers are exempt from Oregon's controversial "brand tax".
The 164,000-square foot (15 sq m) building will cost $600 million and will open today, according to a report in The Oregonian. It joins Google's oldest custom build data center, which was built in The Dalles in 2006, and employs 175 people.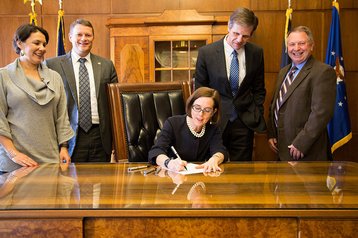 Tax breaks
Oregon has cheap power and low taxes: the state has no sales tax, and enterprise zones with no property taxes either. The Oregonian estimates that these measures already save Google millions each year in tax.
Despite this, data center owners have been complaining about a possibility that they might be hit by a so-called "brand tax" - a 1973 law originally designed for cellphone towers, under which cloud firms might have faced levies based on the value of their corporate brand. 
The brand tax was never assessed against any data center, but Amazon and Apple both threatened to cancel plans to build new data centers in the state, after a court ruled that data centers could be liable to brand tax assessments. Last week, Governor Kate Brown signed a new law explicitly exempting data centers from any application of the tax. 
Google's new data center has been under construction independently of any of this, since before the October ruling was made. IT follows a deal in which the search giant paid money to the city, which has reportedly helped pay for a new fire station and swimming pools.
Elsewhere, it has been reported that Apple is also working on new data center proposals in Oregon, in response to the promise not to apply the brand tax.