As promised, Google has opened a new Tokyo region for its cloud platform, its second in Asia after Taiwan.
The launch comes ahead of plans to open regions in Mumbai, Singapore, Sydney, Sao Paulo, London, Frankfurt, Finland and North Virginia next year.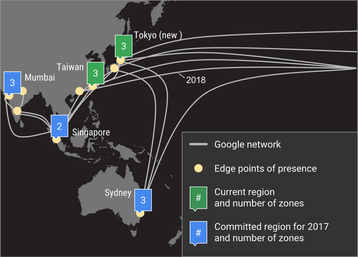 Making Google great
"By opening a dedicated cloud region in Tokyo, we're bringing Google's compute, storage and networking services directly to Japanese businesses," Google Cloud Platform product managers Varun Sakalkar and Dave Stiver wrote in a blog post.
"Based on our testing, customers in cities like Tokyo, Osaka, Sapporo and Nagoya experience 50-85% lower latency on average when served from the Tokyo region compared to Taiwan.
The new Japanese region launches as Google sets its sights on gaining a chunk of of Asia's enterprise cloud, not only opening more data centers in the region in 2017, but investing in submarine cables connecting the continent to the US.
Earlier this year, Google hired Amazon Web Services' Rick Harshman to head Google Cloud in Asia. Previously, he worked as the head of AWS in India, and as the head of ASEAN (Association of Southeast Asian Nations) for AWS.
A more robust and faster service in Asia will come as welcome news to businesses that rely on GCP, and perhaps may mean that the next Pokémon Go will not suffer the same difficulties at launch.