Data center service provider Golden Myanmar Business Exchange (GMBX) plans to build its second facility. 
The $5 million data center could arrive to either Mandalay or Nay Pyi Taw, Deal Street Asia reports.
A bet on Myanmar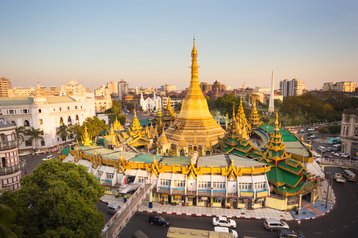 GMBX, which bills itself as Myanmar's only provider of wholesale infrastructure-as-a-service based on OpenStack, is a joint venture between Yangon-based Golden TMH Telecom Co Ltd (GTMH) and Golden 11 Investment International.
The company already operates a data center in East Dagon with a current capacity of 100 racks, which could be expanded to about 400 racks, according to Kyaw Naing, CTO of GTMH. The facility was built with assistance from China's Huawei Technologies.
In 2016, GMBX CEO Derek Hallmons said that the time was right for foreign investment to come into the country, previously known as Burma. "Now that the majority of the country has effective communications, Myanmar has hit a critical point in its telecommunications evolution. It is time to look at what other services will empower businesses and ensure support for the influx of foreign investment," he said.
But flow of cash into the nation has stalled. After Aung San Suu Kyi became State Counsellor and foreign minister of the country in March 2016, key vacancies in government were left unfilled. Notably, the Myanmar Investment Commission (MIC), which approves or denies foreign investment applications, was left without members for three months, causing a backlog in applications.
The government has also been slow to reveal its economic policy, leading to hesitance amongst foreign investors. Junya Ishii, senior analyst at Sumitomo Corporation Global Research, told the Financial Times: "Many investors, including foreign firms, are waiting to see because the government's economic policy remains unclear."
Another concern, particularly for public-facing Western corporations, is the ongoing persecution of the Rohingya people in Myanmar. In November, US Secretary of State Rex Tillerson declared that the Myanmar military, which shares power with civilian authorities, was engaged in "ethnic cleansing."
The International Monetary Fund's Myanmar mission chief, Shanaka Peiris, said in November: "The internal conflict and humanitarian crisis in northern Rakhine State could affect development finance and investor sentiment, although direct economic impact appears to have been largely localized."
With international condemnation of Rohingyan persecution rising, Aung San Suu Kyi traveled to Beijing to meet with Chinese President Xi Jinping on December 1.
"Undeniably, there is another dimension of this visit – the question is, whether Myanmar is getting closer to China in the face of the international criticisms on the Rohingya plight," Sampa Kundu, a researcher at the Southeast Asia and Oceania Centre at the Institute for Defence Studies and Analyses in New Delhi, told the South China Morning Post.
As part of Xi's grand Belt and Road trade plan, Chinese-led consortiums plan to build a $7.3 billion deep-water port in Rakhine and a $2.45 billion oil and gas pipeline. China is also the nation's primary supplier of weapons and military hardware.