American data center equipment specialist Geist has added wireless connectivity to its environmental sensor range, in order to simplify installation and maintenance.
The Watchdog Wi family can monitor temperature and humidity, with sensors capable of lasting for 5 to 12 years on a single battery, while communicating readings every 10-20 seconds.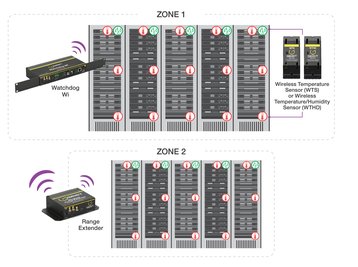 Set it and forget it
Geist makes a wide variety of data center products including PDUs, cooling equipment, containment systems and DCIM software.
The original Watchdog sensor range was designed to improve visibility into data center environment and help maintain servers in an optimal condition. The wireless version offers the same level of monitoring, but doesn't' require any wiring.
The Watchdog Wi range includes an enhanced gateway manager, new wireless sensors and a flexible range extender that expands transmission range in 1,000-foot increments. A single Watchdog Wi deployment can link up to 400 sensors into a single system.
Data gathered from sensors can be displayed through a web interface, accessible from any browser or mobile device. The gateway can also share data with DCIM software or other third-party systems, via open protocols.
"The Wi is another great example of Geist's focus on ultra-reliable solutions that reduce the complexity and cost of data center operations," said Geist president Brad Wilson.
"Adding wireless capability to our environmental monitoring solutions improves the ease and speed in which managers can respond to facility changes. But we didn't stop there. We considered each of the system's touch points and added value end-to-end, making the Watchdog Wi a truly best-in-class solution."