Gaines Township has approved the site plan for a 382,000 square foot (35,488 sq m) Switch data center in Kent County, West Michigan.
The facility will be built on the proposed $5 billion, two million square foot campus, set around the iconic 'Steelcase Pyramid.'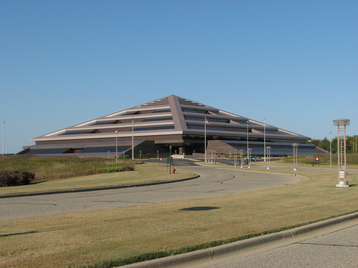 The data center pharaohs
Local news agency WZZM reports that the data center will be larger than the pyramid building previously owned by furniture giant Steelcase.
The rather unique building features a two-level industrial underground complex, hardened concrete walls, and the 71 foot 'Synergy pendulum', the only spherical compound pendulum in the world that constantly swings in the atrium between the points of sunrise and sunset.
Michigan House Rep. Ken Yonker told WZZM: "We're in the first year now and they have the basement facility data center and it's at capacity in the pyramid and they are all leased."
Switch plans to build a 12-foot concrete block wall around the campus, with a two-foot iron fence on top. An additional 10-foot iron security fence will be built in front of that wall.
"It's very high security and you can't even get close to the door," Yonker said. "These are highly-trained military type security people."
The $5 billion project was confirmed after tax incentives were agreed in late 2015, with Switch promising to deliver 1,000 permanent jobs over a 10-year period. So far, the company has employed over 400 people, although at this stage in development these are mostly temporary construction jobs.
"They've honored their commitments and they've gone above and beyond," Yonker said.
Switch expects the complex to be fully powered by renewable energy.