French telecoms company Iliad has purchased an Nvidia DGX SuperPOD with 1,016 H100 GPUs.
The system is being installed at the company's Paris-based Datacenter 5 facility, and will be made available to customers through cloud subsidiary Scaleway.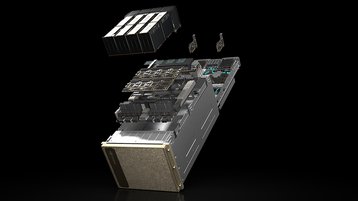 Adiabatic-cooled DC5 is operated by Iliad's data center subsidiary OpCore, which was carved out from Scaleway in June.
"We're entering AI in the same way as we entered telecoms, with the same pioneering mindset," Iliad CEO Thomas Reynaud said. "By acquiring an Nvidia DGX SuperPOD, the Iliad Group has equipped itself with the most powerful cloud-native AI supercomputer deployed to date in Europe."
Scaleway CEO Damien Lucas added: "Our aim is to become the leading partner in Europe for all AI companies."
Alongside the new DGX system, Iliad has launched an 'excellence lab' in Paris dedicated to AI research, in which it claims more than €100 million ($105m) has already been invested.
The lab hopes to build an 'artificial general intelligence,' the company said, adding that it would make the findings of its research publicly available. AGIs remain hypothetical, and are the long-term goal of groups like OpenAI.
"To have clout in the AI market, you need computing power," Iliad chairman Xavier Niel said. "To have computing power you need supercomputers. And to have supercomputers you need to invest. To invest massively."