Ford has broken ground on a new data center at its headquarters in Dearborn, Michigan, as part of a decade-long overhaul of its Ford World headquarters campus.
The 'data center of the future,' as Ford calls it, comes as the firm as a whole tries to reposition itself not just as an automobile company, but a mobility one as well.
More than just cars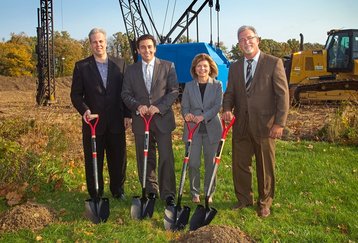 Ford VP and CIO Marcy Klevorn said, according to an internal company blog, that there was an explosion of data at Ford. She added: "Today represents the automotive and mobility company Ford is becoming supported by technology and software."
Ford president and CEO Mark Fields said that the data center will provide modern and secure computing data storage capabilities for Ford and its customers. He continued: "As we go forward, the role that IT is playing and will play in our business – it is priceless."
Jeff Lemmer, director IT operations, added: "The IT team is being challenged to think differently about how we deploy applications and create infrastructure, and new data centers will allow us to meet those challenges."
Roger Gaudette, director of Dearborn Campus Transformation at Ford Land said: "The data center is an important and large part of the 10-year campus transformation… the data center of the future is the first visible sign of transformation outdoors on the world headquarters campus."
Other upgrades to the campus include a design center, amphitheater, and new office towers. A Ford burger bar will also open in the area.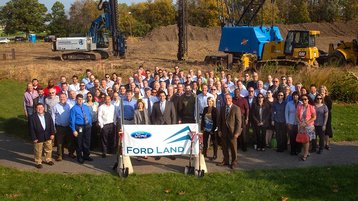 Ford, like much of the Detroit automobile industry, faces serious challenges from the encroachment of Silicon Valley tech companies into its field. Self-driving cars, ride-sharing applications and changing transportation needs are poised to upend the existing business models that have served Ford well.
In August, Mark Fields said that the next decade would be "defined by automation of the automobile."
In a speech in Silicon Valley, he said: "Ford will be mass producing vehicles with full autonomy within five years. And that means there will be no steering wheel, no gas pedals, and no brake pedals. A driver is not going to be required.
"In fact, we see autonomous vehicles as having as significant an impact on society as Ford's moving assembly line did more than 100 years ago."
At the same event, Ford announced plans to open a dedicated campus in Palo Alto, the home of self-driving pioneer Google.