Indian River State College (IRSC) is establishing a data center in Okeechobee County, Florida.
The campus has been dubbed Okee-One and will be located on the former Okeechobee "School for Boys" site, a 205-acre parcel.
Okee-One will house several data centers, serve as a learning lab for IRSC students, and employment base for graduates and local residents.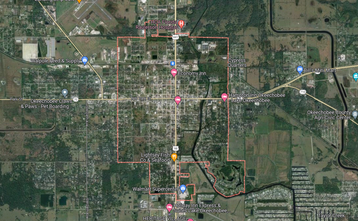 The IRSC project has been supported by Florida Governor Ron DeSantis, who signed the transfer of ownership of the land on June 21, and is also being enabled by the Okeechobee community and the South Florida Water Management District.
The project will involve the deployment of servers, storage, network gear, racks, power distribution systems, transformers, chillers, and generators, and will need a skilled workforce to operate the infrastructure.
The construction timeline, or expected IT capacity of the campus has not been shared.
According to the Summary Analysis of the land transfer bill, the IRSC will spend $1.5 million in the first fiscal year, and $3.5 million in the second for the redevelopment of the property. It also states that the bill will " reduce expenditures by the Department of Management Services to maintain the facility, currently estimated at $200,000 per year."
Before things can kick off, the IRSC needs to complete a "culture assessment" of the land.
The "School for Boys" was previously a reform school, first in Marianna from 1955 to 2011, and a second campus was opened in Okeechobee in 1955. In 2009, several unmarked graves were uncovered on the Marianna campus, and as a result, both were permanently closed in 2011.
A 2015 investigation found similar unmarked graves at the Okeechobee location which has led to extensive investigations using cadaver dogs and local law enforcement to identify all missing persons associated with the school. In total, 55 unmarked graves were found (and a further 27 suspected graves identified) and the school had nearly 100 documented deaths. As of December 2022, no further bodies have been found, and all missing persons have been accounted for.
Dr Michael Hageloh, EVP for strategic initiatives at IRSC, said: "Between access to dense fiber, natural gas, and land availability for solar backup and an existing water reclamation facility for cooling, the possibility of establishing the nation's most sustainable data campus here in Okeechobee is within reach."
The IRSC currently has around 30,000 students enrolled. The college has five campuses: Massey Campus in Fort Pierce, Chastain Campus in Stuart, Dixon Hendry Campus in Okeechobee, Mueller Campus in Vero Beach, and Pruitt Campus in Port St. Lucie.
Okeechobee is located to the northwest of West Palm Beach, Florida. Florida is home to a number of data centers, owned by companies including Verizon, Colocation America, WOW Business, DSM, Ace Host, Atlantic.Net, OneColo, 365 Data Centers, and the recently bankrupt Cyxtera.
More in Construction & Site Selection