Swedish infrastructure specialist Flexenclosure has been contracted to provide a prefabricated modular data center for Burst Networks in Myanmar (previously Burma) - set to become the first facility in the country to comply with Tier IV specifications.
Burst Networks is a local telecommunications provider that offers hosting, colocation, broadband, unified communications services and disaster recovery.
The deployment will consist of three eCentre modules – popular among telecoms companies that need a compact, easy-to-install infrastructure solution. Such modules have been previously deployed by Telenor in Norway, Vodacom in Tanzania and Mozambique, and MTN in Côte d'Ivoire.
"Modular data centers are ideal for emerging markets like Myanmar, thanks to their speed of deployment, inherent flexibility and future agility," said Shalini Lagrutta, director for the Asian markets at Flexenclosure.
"We already have a very strong presence in Myanmar, having deployed over 1,000 of our eSite hybrid power systems across the country, and we're delighted to further strengthen our presence with this new eCentre project."
First of a kind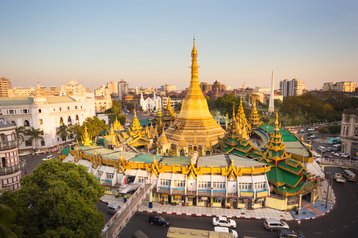 Under the terms of the deal, eCentre modules will be deployed in the Thilawa Special Economic Zone on the outskirts of Yangon (formerly Rangoon) - the largest city in Myanmar.
The modules will be manufactured and pre-assembled in Sweden, then shipped to Myanmar for installation in early 2016. Flexenclosure says this approach guarantees high quality and much shorter project duration, when compared to facilities built from the ground up.
The modules conform to the Uptime Institute's Tier IV design documents certification, meaning they will be manufatured to offer the highest standards of redundancy and fault tolerance, with expected availability of 99.995 percent. It will be up to Burst Networks to finish the process, and obtain constructed facility certification.
The project will not only include the new data center facilities, but also a network operations center which will link together local fiber and satellite infrastructure (supporting C-Band, Ku-Band and Ka-Band frequencies) – something that's especially important in mountainous regions like Myanmar.
In total, the data center will offer 220 square meters of white space across two secure 'pods' -enough to host 72 racks of equipment. Another 'pod' will serve as the energy center, supporting a total IT load of 150kW.
"We believe the Thilawa project is of great strategic importance to the further development of Myanmar. The Burst teleport will make infrastructure available to customers in key growth sectors – such as financial services, and mobile communications – that is critical to support their modernization and expansion plans," said Daniel Michener, CEO of Burst Networks.
"Our focus on quality, security and reliability will enhance our customers' ability to better serve their clients, compete in regional and global economies and minimise their operational risks."