Modular data center specialist Flexenclosure will deploy a cable landing station in Palau for the Belau Submarine Cable Corporation.
The news comes just a month after the company signed a similar deal to deliver two cable landing stations in Samoa.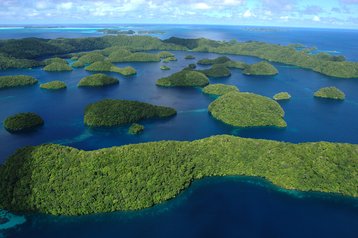 Pacific gift
Construction of the eCentre modules in Sweden has already been completed, and the modular facility is now on its way to Palau. Deployment is planned for this spring, connecting the nation to the SEA-US trans-Pacific submarine cable.
Flexenclosure CEO David King said: "We are delighted to be expanding our presence in the Pacific with this new facility for BSCC.
"It reinforces not only the supreme versatility of our eCentre product, but also our commitment to the Pacific region and our ability to deliver projects to some of the most remote communities on the planet."
George Rechucher, chairman of BSCC, added: "Being able to finally introduce reliable high speed Internet services to the nation's 21,000 inhabitants is of huge importance to Palau, as the country is only connected via satellite today.
"This has been a very long time coming and will help to transform Palau into a more globally engaged society."
Consisting of roughly 250 islands, Palau has been inhabited for some 3,000 years - at first by the Negrito or Pygmy people, before being colonized by what may have been Sunda Islanders.
Control of the nation has been passed around since the Spanish Empire gained ownership in the 16th century. After losing the Spanish-American war, Palau was sold to the German Empire in 1899, which held the islands for just 15 years.
In 1914, the Japanese Empire took control of Palau as part of its expansion during World War I. After the war, the League of Nations formally placed the land under Japanese administration as part of the South Pacific Mandate.
But Japan's grip on Palau also proved short-lived - after gaining the islands in one world war, it lost them in another. In 1944, The Battle of Peleliu saw US forces take control of Palau after two months of struggle that cost the lives of 10,000 Japanese soldiers and 2,000 US troops.
The National Museum of the Marine Corps named the siege as "the bitterest battle of the war for the Marines."
After WWII, the islands were officially put under US control from 1947. In the late '70s the people of Palau bid to become independent, and in 1981 the nation became the Republic of Palau.
The next year, it signed a Compact of Free Association with the United States - a free and voluntary association of governments, where the US provides defense, funding and social services, and Palau allows American military forces access to the islands for 50 years.