Data center developer Kolos has received $2.5m from a consortium of investors which includes the Fast Track Venture Capital, to fund its massive data center project in the Arctic Circle.
Last month, the newly formed US-Norwegian company made public its plan to build the 600,000 sq m (6.46m sq ft) green facility in Narvik, Norway, with up to 1,000MW of power capacity. Kolos joins the ranks of Facebook, Apple, Google, and companies involved in the Lefdal Mine project, all of which have their own massive data centers in the Nordics.
Put it in the piggy bank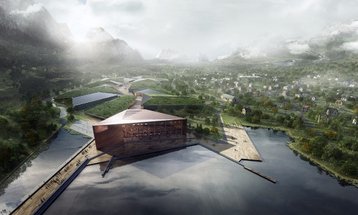 When the campus was announced, Kolos had already obtained part of the necessary funding for the project, and was in talks with US investment fund Headwaters MB - which has since agreed to raise $250m for the company - to secure the remaining cash.
The data center will rely entirely on hydro and wind power sources, which are said to hold enough energy locally to provide twice the amount required for the facility, while using water from the surrounding fjords to cool its servers.
Construction of the first module, which will support up to 60MW of IT equipment, is planned to begin in early 2018.