It's over: Facebook has chosen Los Lunas, New Mexico to build its seventh data center, after the state competed against Utah and the city of West Jordan to offer the social network the best deal.
Construction of the 510,000 sq ft (47,000 sq m) center will begin in October, with Facebook making an initial $250 million investment. The company is set to take advantage of generous tax breaks when it is live.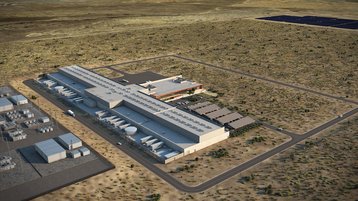 Best friends
Facebook founder Mark Zuckerberg said on Facebook: "I'm excited to share that Facebook's seventh data center – powered by 100 percent renewable energy – will be in Los Lunas, New Mexico here in the United States.
"Data centers deliver all of Facebook's services to you. They're some of the most complex machines ever created. The Los Lunas Data Center will be one of the most advanced and energy-efficient data centers in the world. We're glad to be investing in New Mexico, to become part of the Los Lunas community, and to continue building the massive infrastructure that connects our global community."
Local utility provider PNM previously applied for a power purchase agreement to deliver 60MW to 100MW of solar and wind power, so that the facility can run on renewables "to the greatest extent practicable."
Governor Susana Martinez's office said in a statement: "Facebook is a stellar, cutting-edge, high-tech company, and it's an honor to welcome them to New Mexico. Making our state more competitive for jobs and new investment is critical to growing our private sector and diversifying our economy."
Senators Tom Udall and Martin Heinrich, and Representatives Steve Pearce, Ben Ray Lujan and Michelle Lujan Grisham, said in a joint statement: "We welcome Facebook to New Mexico and are proud to help secure this new investment in our state's future.
"Facebook will bring innovative opportunities for our economy and much needed jobs."
The first phase is expected to create 30 to 50 jobs, with "hundreds" more during later construction phases, KOB reports. Estimates on the number of permanent jobs floated by Facebook during negotiations range from 50 to 300.
In return for the jobs, construction, and an annual payment from Facebook that starts at $50,000 and rises to less than $500,000, Los Lunas will not collect any property taxes for the next 30 years. Facebook will also receive tax breaks on the considerable cost of computer equipment it will install in the facility.
New Mexico may also end up paying for Facebook's water rights.
Similar tax arrangements rolled out by rival location West Jordan during negotiations proved too much for the state of Utah, which last month voted against a $260 million incentive, ultimately giving the prize to New Mexico.
"The incentive that was offered was too rich by an order of magnitude, and four other cities in the county looked at it and walked away long before this incentive was ever reached," Salt Lake County Mayor Ben McAdams said to The Salt Lake Tribune at the time.
While Facebook's involvement with New Mexico and Utah was only made public in recent months, it is believed negotiations started 13 months ago.
Operating under the alias Greater Kudu LLC, Facebook worked with the two states to try to get the best deal for its data center, dubbed 'Project Discus'. In Utah, the social networking website engaged in covert lobbying to help successfully pass laws that provided tax breaks to large data centers and tax exemptions on renewable energy.
The New Mexico data center will be located on 4250 Kudu Loop NW, Los Lunas, NM 87031.