French satellite operator Eutelsat is to exit the retail broadband market in Europe.
Eutelsat Communications this week said it has reached an agreement to sell its European broadband retail activities to an unnamed "experienced private operator".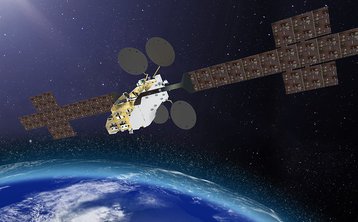 Terms of the deal were not disclosed.
Eutelsat said it was disposing of its Bigblu Operations Ltd affiliate and European retail activities in the UK, Ireland, France, Germany, Italy, Spain, Portugal, Poland, Hungary, and Greece.
The disposal, according to the company, comes in the wake of the "considerable success" of Eutelsat's wholesale go-to-market model. The likes of Orange (France), TIM (Italy), Hispasat (Spain), and Swisscom (Switzerland) have signed deals to lease capacity on the company's Eutelsat KONNECT satellite.
The unnamed private operator will also become a wholesale distributor in existing markets.
Eutelsat acquired Bigblu Broadband's satellite broadband activities in September 2020 for £38 million ($48.7m), taking on around 50,000 subscribers across Europe. Eutelsat also has a retail broadband presence in Africa that is seemingly not part of the deal.
Eutelsat's KONNECT VHTS satellite is set to come into service in the second half of the year, offering 500Gbps in the Ka-band across 230 beams over Europe and MENA.
Eutelsat is currently undergoing a merger with wholesale-focused Low Earth Orbit operator OneWeb. Earlier this month the two companies demonstrated a multi-orbit connectivity solution to NATO at Eutelsat's teleport facility in Rambouillet, France.
The companies connected to OneWeb's LEO constellation via a Kymeta Hawk u8 user terminal, mounted on a 4x4 Land Rover Discovery, to stream 4K video feeds and run Teams, Twitch, and GoogleEarth applications at 195Mbps download speeds; 32Mbps upload speeds; with latency as low as 70ms. The companies also demonstrated a handover between beams and satellites and completed a 1GB file transfer in less than 8 seconds.
In other space news:
- A proposed bill to reauthorize the Federal Aviation Administration includes a provision directing the agency to begin tracking airborne debris. Much of this work is currently under the purview of the Commerce Department.
- The EU has selected its preferred bidder for its IRIS² satellite constellation. A consortium including Airbus, Eutelsat, SES, and Thales Alenia Space beat out bids from Exotrail, Integrasys, CEA, and Rivada Space Networks.
The Commission said it has selected a consortium and asked it to submit initial proposals, including design, cost, schedule, and private sector investment.
- Luxembourg is to procure capacity from SES' upcoming O3b mPower network. The €195 million ($213.5m), 10-year deal will see SES provide critical resilient satcom capabilities for Luxembourg, its partners, and NATO around defence, security, and disaster recovery.
- Telefónica México has partnered with Starlink and will be offering its services to business and enterprise customers. Department store chain Coppen is reportedly the first customer.
Tanker company Sun Enterprises is testing Starlink aboard its ships in partnership with Marlink.
Philippine Telegraph & Telephone Corporation (PT&T) has partnered with Australian firm NetLinkz to offer Starlink services.
Starlink is now available in Trinidad and Tobago and secured a license to operate in Zambia. It has also expanded its UK coverage to include the whole of Shetland in North Scotland.
- OneWeb has signed a Letter of Intent with Kazakh post companies Kazpost and Beeline Kazakhstan to connect remote post offices. Around 340 out of KazPost's 2,000 stationary rural post offices are not connected to the Internet.
- Australia's NBN Co said it is to make a formal assessment of LEO satellite services to see how they might help the company.
- Turkish space startup Hello Space has launched what it described as the world's smallest satellite. Its pocketqube, launched on a recent SpaceX flight, spans 5cm x 5cm x 5cm and aims to offer a LoRaWAN network for IoT devices.
- The same SpaceX launch saw OQ Technology – another IoT satellite comms firm – launch one of its Tiger satellites.