Swedish vendor Ericsson has demonstrated a phone call carried by a virtualized mobile network or "Cloud RAN", with help from Intel and Hewlett Packard Enterprise (HPE).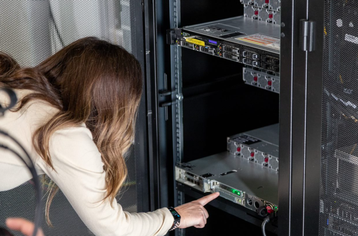 Cloud RAN, also known as C-RAN or Centralized-RAN, is an approach to mobile phone networks that takes the open radio access network (Open RAN) and virtualizes it. In simple terms, Cloud RAN is a cloud-native approach to the RAN.
Ericsson says a fully commercialized Cloud RAN solution will enable communications service providers to increase network capacity and energy efficiency, plus flexibility and scalability.
The joint demonstration of Ericsson's Cloud RAN solution took place in Ottawa, Canada, using a fourth Gen Intel Xeon Scalable processor with Intel vRAN Boost within an HPE ProLiant DL110 server.
Ercisson claims this is the first virtualized RAN to be successfully demonstrated and ready to deploy on Intel processors with vRAN Boost.
"This achievement shows our commitment to driving Open RAN forward, with our high-performing Cloud RAN solution and extensive support of the larger ecosystem. Working with partners like Intel and HPE, we are actively promoting open standards and delivering intelligent and sustainable solutions for future networks," said Ericsson's head of product area networks, David Hammarwall.
The three companies have been working together in labs across the world including the Open Lab in Ottawa and at the joint Ericsson-Intel Tech Hub in Santa Clara, California. 
Intel's processor can optimize workload performance for packet and signal processing, load balancing, AI and machine learning, and the implementation of dynamic power management.
HPE says the ProLiant DL110 server is optimized for Edge applications and workloads that require low power, high bandwidth, and low latency.
More in IT Hardware & Semiconductors