Equinix has announced plans for a new data center in Paris, France.
To be located at Equinix's Saint-Denis campus, the new site—named PA10—will be the company's tenth data center in the capital.
Phase 1 of PA10 is due to provide 3,775 sqm (40,600 sq ft) of colocation space and 1,525 cabinets of capacity. At full build-out, the facility will offer 5,775 sqm (62,100 sq ft) of colocation space, equivalent to ~2,250 cabinets. The company said it was investing $163 million in the project, but didn't share planned timelines for delivery.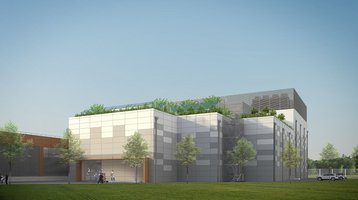 "In support of the Choose France initiative, today's investment and expansion serves to bolster the country's digital infrastructure capabilities, providing local and multi-national corporations with a foundational source of differentiation and the global platform needed to thrive in today's digital economy," said Charles Meyers, president and CEO at Equinix. "Equinix is connecting digital leaders, enabling them to simplify operations, improve customer experience and accelerate the launch of new products and services."
Equinix said 'multiple sustainability initiatives' are planned for PA10, including a heat recovery technology project designed to heat the local community swimming pool. The site will also include a 430 sqm (4,600 sq ft) rooftop greenhouse.
As well as being heated via heat recovery system, the proposed greenhouse will use a hydroponic system will to reduce water consumption by using a water recovery system and only irrigating the cultivated areas. The company said the rooftop garden will help retain rainwater and reduce the amount of water directed to the sewer, in addition to reducing waste heat emissions.
Régis Castagné, managing director for France at Equinix, added: "For a long time, the digital revolution has been seen as the cause of change in society. At Equinix, we're working to support this shift, spearheading innovations to address the environmental impact of digital. Indeed, it has become a societal issue that requires, among other things, increased dialogue between industry and local authorities to hasten progress in this area."