Equinix opened its AM4 tower in Amsterdam in July. Now the architect - Benthem Crouwel - has released a set of photos which show off the new facility's design. 
An innovative cladding design picks up sunshine and emphasizes the building's size and shape, while a moat around it is less forbidding than the security fences which are more normal at data centers. The site missed the nominations for Most Beautiful Data Center in this year's DCD Awards but, on the basis of these images, should be in the running for next year's prize.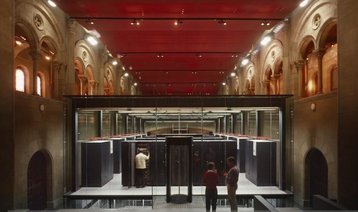 Tapering fins
The building's cladding is made from triangular aluminum fins, black on one side and silver on the other to create a distincitve sheen. The new data center,with its vertical stripes, sits alongside the earlier AM3, which has horizontal stripes - a design choice which could effectively make the difference between them less stark (see footnote).  
The cladding fins have been compared to heatsinks on a hard drive or other IT component - although in fact the waste heat from the bujilding is not released willy-nilly, but reused in other buildings on the Amsterdam Science Park campus. 
Benthem Crouwel has carried out several striking projects in the Netherlands, including car park with interlocking helical ramps, and a glass roofd for The Hague's main station. 
Photographs by Jannes Linders.