Emerson Network Power, has announced the availability of Liebert 80-eXL throughout Europe, Middle East and Africa. This transformer-free, monolithic Uninterruptible Power Supply (UPS) unit delivers secure power and high performance levels to medium-to-large data centers. 
The Liebert 80-eXL is available in versions from 160 to 500 kW and is fully compatible with its predecessor, the 80-NET, offering easy system expansion and upgrades. The unit provides double conversion efficiency of up to 97 percent and up to 99 percent in ECO mode as well as optimized efficiency at partial load. While resulting in improved operating costs and energy consumption, these features also deliver reduced total cost of ownership (TCO) and CO2 emissions.
"We have designed this unit to lower energy consumption and keep heat loss to a minimum. With the double conversion efficiency of up to 97 percent we are able to offer customers further reductions in operating costs, while also saving over 950 tonnes of CO2 per unit, every year," said Giovanni Zanei, product marketing director, Power Systems for Emerson Network Power in EMEA.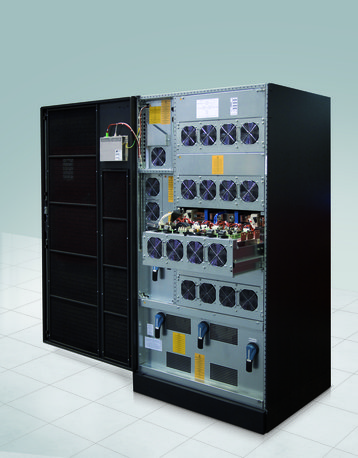 Low footprint, high power and density
The Liebert 80-eXL can be connected to up to eight units in parallel, ensuring that organizations are able to service units while the others continue powering the load. Additionally, by activating the Intelligent Paralleling feature the system is able to optimise efficiency at partial load by automatically adapting operating levels to meet the load requirement, consequently reducing operating costs as well as CO2 emissions, claims Emerson. The Liebert 80-eXL also provides high power density in one of the industry's most compact footprints.
This advanced UPS system is complemented by service capabilities, delivered through Emerson Network Power's LIFE remote diagnostic and preventive monitoring service. From dedicated centers, Emerson Network Power experts analyse equipment data and trends to support proactive maintenance. LIFE provides the servicing team with real-time analytics every millisecond allowing them to recommend actions that maintain the best operational performance as well as enable pre-emptive and immediate issue resolution.