Emerson Network Power and Hibernia Networks have partnered to design and build two fully integrated cable landing stations on each side of the Atlantic Ocean to connect the new Hibernia Express dedicated submarine fiber cable. 
Hibernia Express is the first new transatlantic cable system deployed in over 12 years. Emerson Network Power customized its modular, prefabricated solutions to meet local requirements in Canada and the United Kingdom — the two global landing spots for Hibernia Express. 
The landing stations are comprised of several prefabricated modules assembled onsite. Each site is approximately 1,700 sq ft. In addition to the Liebert DSE and Liebert PDX thermal management units, Emerson's solutions include high-efficiency NetSur DC Power systems with secure remote monitoring and control, ASCO automatic transfer switches and switchgear, inverters, valve-regulated lead-acid batteries and other support infrastructure.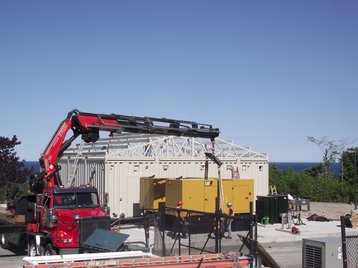 Prefabricated systems acheive the highest industry standards 
The prefabricated landing stations are designed to achieve the industry's highest standards for energy efficiency and power usage effectiveness. 
Emerson Network Power's Liebert DSE and Liebert PDX thermal management units are being used to deal with the harsh, cold climate in which they have been installed.Using the units prevents the corrosive ocean air entering the IT environment.
 It took just seven months to deploy the stations. Emerson estimates that this is more than 40 percent faster than the typical deployment time for brick-and-mortar facilities.
"Emerson Network Power's resources, flexibility and knowledge of the product were what we needed in a partner," said David Smith, senior vice president global network operations at Hibernia Networks. "Faster speed and improved resiliency are central to the differentiated valued proposition of the Hibernia Express Cable. The technology and security underlying the Emerson Network Power landing station solution is an important element to the overall cable system, serving to strengthen these key attributes valued by our customers."
"We were excited to lend our expertise to the development of Hibernia Networks state of the art network facilities," said Steve McKinney, vice president and general manager of power management and integrated modular solutions for Emerson Network Power. "We look forward to leveraging these engineering, design and project management capabilities in future world-class projects. 
Hibernia Networks owns and operates a global network connecting North America, Europe and Asia, serving 89 markets and spanning 25 countries. Hibernia Networks provides secure and diverse dedicated Ethernet, DTM, Wavelengths and carrier-grade IP Transit services. Hibernia Networks also offers cloud connectivity, low latency services and HiberniaCDN for content delivery. Hibernia Networks' new transatlantic cable.
The Hibernia Express is a 4,600 K high speed fiber optic submarine cable that came ashore in August on the coast of Halifax, Canada and Cork, Ireland. The cable also travels to Slough in the UK.
With 100Gbps transmission speeds, the €273m cable allows data to travel across the Atlantic Ocean in 60 milliseconds. 
Digital Realty is also building a transatlantic fiber optic cable with AquaComms called the America Europe Connect (AEConnect).