US data center provider EdgeConneX plans to build a €30 million ($33.2 million) Dublin data center, the Irish Independent reports.
The 61,000 sq ft facility will be the US company's first in Ireland and only its second in Europe. It currently operates one data center in the Netherlands, near Amsterdam.
The new facility will be built on the Grange Castle Business Park in west Dublin, a site that already hosts a Microsoft data center.
Its construction will form the first of a possible three-phase project, EdgeConneX said.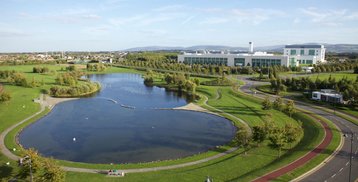 Network growth
The company's entire network of data centers, which includes 23 sites it operates in the US, has been built since 2013. It plans to construct another facility in New Orleans.
It will also construct edge data centers in the UK as part of an agreement with Virgin Media, as reported in LightReading.
Sites in Austria, France and Italy are currently being considered as possible edge data center locations.
The company traditionally locates its facilities away from areas with a high number of larger data centers, with site-selection driven by customer demands. It lets clients cache data closer to customers than traditional data centers usually allow, reducing latency.
Customers control their data through EdgeConneX's management console, which provides visibility into, and control of, unmanned data centers.
EdgeConneX's backers include Comcast Ventures, which is part of the Comcast group that owns NBCUniversal. Comcast is a customer of EdgeConneX.
Land of the giants
EdgeConneX joins a long list of companies to have invested in the Irish data center market, which includes web behemoths Amazon, Microsoft, IBM, Apple, Facebook and Google.
Microsoft received planning permission in May 2016 for the construction of four data centers at Grange Castle, to cost a reported €900 million ($995 million).
Apple plans to build an €850 million ($884 million) data center in Athenry, County Galway. Facebook, meanwhile, is building a €200 million ($221 million) facility in County Meath.