Italian open source cloud provider Enter Cloud Suite (ECS) is trialling a novel outdoor server chassis engineered by French startup Horizon Computing, called the RuggedPOD. 
As reported by The Register from the OpenStack summit in Sydney, where the pod was presented, the 0.343m3 box can hold up to four micro-ATX motherboards and 32 to 34 CPU cores. Servers are immersed in dielectric oil, either an organic fluid called Cargill Envirotemp FR3, or from the Shell Diala mineral oil range. 
Pod dreams?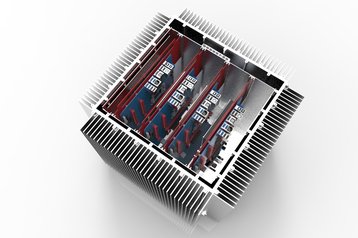 The structure can withstand external temperatures between -20°C (-4°F) and 35°C (95°F), but not direct sunlight. This seems like a rather fundamental setback, if the idea is to place them in more remote areas, since this would automatically exclude warmer climates.
To counter this, the company suggests placing solar panels around the pods, providing them with power and shade all at once. However, the RuggedPOD requires an 800-watt power supply, and each pod can only support up to 1kW of equipment, meaning deployments would need to be fairly large to provide reasonable capacity.
Horizon Computing wants to "kill the data center" and instead operate clusters of servers under the open sky to lower the industry's environmental impact. Because the pod doesn't require any humidity adjustments or external cooling systems, it can exist independently of the usual building shell, offering easy deployment and a potential PUE of 1. 
Engineer Jean-Marie Verdun and his brother came up with the concept, and the first version of the product was launched in 2015, then measuring 45x45x50cm. Supporting the hardware project alongside Horizon computing and ECS are Western Digital, Intel and Numergy.