Power management specialist Eaton has expanded the range of Automatic Transfer Switches (ATS) it offers in the US, Latin America and Europe.
The American markets now have access to 15A and 20A models of eATS Monitored platform.
Meanwhile Europe has received 16A and the only 30A automatic transfer switch on the market.
All of the new ATS models have been designed to enables seamless switching to secondary non-phase alternating current (AC) power sources without disruption to the work of the data center.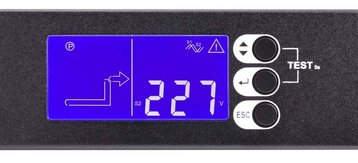 Upping the uptime
Automatic Transfer Switches are used to continually monitor the available current from two different sources and switch between them when one drops below a desirable level. In a data center, an ATS would switch to a generator in the event of a power grid failure - something that's essential to ensure power redundancy.
Eaton's eATS are networked 1U devices that can alert the user when there is a power drop, before initiating a transfer or retransfer of the switch to keep devices running.
Both eATS 15 and eATS 20 feature new LCD displays that enable data center and IT managers to easily monitor electric loads.
Two different models, ATS 16 and ATS 30, are now available in Europe. With ATS 30, network connectivity comes as standard, while on ATS 16 it is available as an option - however the smaller version also features an LCD screen.
"In today's IT environment where downtime and service interruptions can be very costly and disruptive, dual power source redundancy is highly desirable," said Julien Salinas, product manager at Eaton.
"However, only advanced servers and networking products have built-in provision for operation from two power sources. We've therefore developed our new automatic transfer switches specifically to provide a straightforward and convenient solution to this problem. The switches are compact, affordable, easy to fit and they can be used with any sine-wave power source."