Eaton has launched new lithium-ion-powered UPS battery racks in the US.
The LXP-P series are lightweight battery cabinets with pre-installed lithium-ion batteries, designed for large users who need Megawatts of backup power. The cabinets use lithium iron phosphate chemistry which is safer than other chemistries on the market, Eaton says.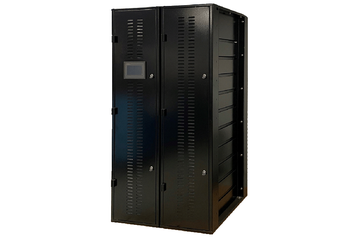 The battery cabinets integrate with Eaton's 9395 UPS with no need for external AC feeds to the battery, as the battery management system is self-powered.
"Lithium-ion battery technology has emerged as a transformative solution for large-scale UPS applications ranging from data centers to healthcare and manufacturing facilities," said Ed Spears, technical marketing manager, Eaton. "These batteries continue to feature designs that are smaller, easier to deploy, and safer than ever, with high energy density that allows for advanced capabilities in a smaller footprint. Our LXP-P series solutions are a testament to Eaton's continued leadership in harnessing lithium-ion technology to enhance the resiliency of critical infrastructure."
Lithium-ion has emerged as a strong alternative to lead-acid batteries, with a higher initial cost, but an overall lower total cost of ownership. Lithium iron phosphate chemistry is less common than lithium nickel manganese cobalt oxide (NMC) found in phones and laptops, but has a more stable chemistry suited to large installations.
Eaton has had lithium battery products for some time, but these cabinets with pre-installed lithium iron phosphate batteries bring the technology to large facilities (i.e., three-phase applications), Eaton says.
"Having the lithium batteries pre-installed in the cabinets is a new feature that Eaton hasn't offered before in this application," explained Spears in an email exchange with DCD. "Previously a customer would order a battery cabinet and batteries separately, then have a technician or engineer come out and do the installation."
The LXP-P series solutions are safer than some alternatives because of their phosphate chemistry, and have a battery management system that monitors temperature, current, and over/under voltage to provide cell protection. They also have cell balancing, state of charge, and health and alarms/reports.
Spears added: "Additionally, the lithium iron phosphate chemistry of the batteries themselves is unique and offers enhanced safety with compared to some other options in the market. Also, having built-in battery management system power eliminates the need for the customer to bring AC power to the battery cabinet (it's essentially self-powered)."
Up to eight cabinets can be run in parallel, with the first cabinet featuring the human interface display that communicates the status of the paralleled cabinets and provides battery status to the UPS or building management system. The batteries have a ten year warranty.