Amsterdam-based startup Asperitas has revealed the AIC24, a self-contained liquid cooled plug-and-play modular data center.
Based on what Asperitas calls 'Immersed Computing,' the AIC24 is a water-cooled oil-immersion system that uses natural convection to circulate the dielectric liquid.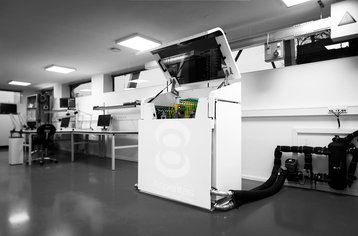 Keeping it in the system
The AIC can contain up to 48 servers in a twin configuration, but the downside is the IT has to be housed in specialized modules designed by Asperitas.
Within those modules, the AIC can support any type of server mainboard up to a maximum size of E-ATX (12×13") for a 1U chassis. It can also accommodate two cassettes that hold switches.
The modular data center supports up to 22 kW of pure IT power with a footprint of 600x1200 mm.
The system uses two convection drives for forced water and natural flow of oil, which makes it capable of transferring 24 kW of heat from the oil. The company said in a white paper that the "oil is circulated by natural means and does not leave the immersion system."
It added: "This means that the primary circulation is completely driven by the thermal expansion of the oil and gravity. The only requirement for heat rejection is any common water infrastructure."
Marketing manager Maikel Bouricius told DCD that this differentiates the product from other total liquid solutions that "need additional infrastructure (pumps, cooling etc) to distribute the heat from the IT.
"One of the benefits of our solution is a very minimal need for additional infrastructure and therefore capex."
The company claims that access, long one of the drawbacks to liquid cooling, is easy. It has an automatic opening and closing cover, which it says allows simple and clean access to the IT.
Although the special modules will increase the hardware cost over a conventional system, Bouricius said that the company is "working at the moment with various technology partners, including Super Micro" for mass produced versions.
"In general IT costs will go down, for two reasons: The only hardware components you really need are included (no fans, for example); plus - and this is especially interesting for cloud providers - our system allows for the super efficient use of CPUs, resulting in a strong decrease of costs for IT licenses (up to 50 percent depending of the user and specific set up)."
In addition to Super Micro, another partner on the project is the University of Leeds, which also worked with British liquid cooling company Iceotope. 
"The University of Leeds has been an early adopter of liquid cooling and have focused quite some research on it, led by Jon Summers," Bouricius said. 
"They are just very open and interested in the development of liquid cooled data centers."