Deutsche Telekom has kicked off construction of a 5G field test at the Port of Duisburg, Germany.
The German telco says that semi-automated control of port cranes is to be tested via mobile communications technology, while the project aims to boost the capacity of container handling operations.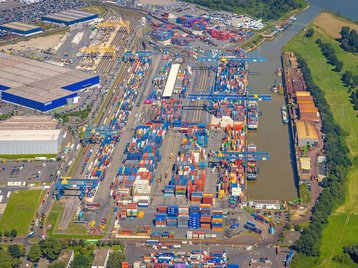 If Deutsche Telekom is successful with the project, it would be a first, with semi-automated control of mobile cargo handling equipment in inland ports not proving possible so far.
Around € 1 million ($1m) will be provided to the project over the next two years by the state of North Rhine-Westphalia after it selected the project for funding via the 5G.NRW competition.
Construction began on November 3, with a public kick-off event held to commemorate the start of the project.
The University of Duisburg-Essen (UDE), Duisburger Hafen AG (duisport), startport GmbH, Deutsche Telekom, and POLO KNOW-HOW Industrie-Engineering GmbH are also involved in the project, Deutsche Telekom confirmed.
Meanwhile, Prof. Andreas Stöhr from the UDE's engineering department is coordinating the research and development work at the port.
Increasing crane capacity is the main goal
Deutsche Telekom is equipping the Logport I port site in Duisburg Rheinhausen with its own 5G campus network, with the campus forming the basis for digitizing the necessary control units.
According to the telco, the container cranes handle the main part of the cargo handling, while semi-automation with the help of 5G is expected to increase the capacity of the cranes, therefore increasing container turnover.
Deutsche is planning to use 5G technology to connect several cameras and sensors in the port area.
"Telekom not only has the opportunity to build and operate the infrastructure here in Duisburg. With this project, we will explore and develop new fields of application for 5G together with our partners," said Telekom Deutschland GmbH managing director of the business consumer division Hagen Rickmann.
"Digitization is playing an increasingly important role, especially in logistics processes. 5G is an important driver for this. Both the Port of Duisburg and the companies operating there will benefit from this project."
Deutsche Telekom is aiming to cover 99 percent of the population with access to its 5G network by 2025, while the telco claims that 92 percent of households in Germany can access its 5G services.