Deep Green has picked Civo to provide cloud services on tiny data centers that heat swimming pools.
In March 2023, UK-based Deep Green showed a "digital boiler."
The digital boiler is a small immersion-cooled system installed at a leisure center in Devon, UK, where its waste heat warms a swimming pool. Deep Green will work with Civo to offer cloud services on similar systems, which it says could slash energy bills at pools across the country.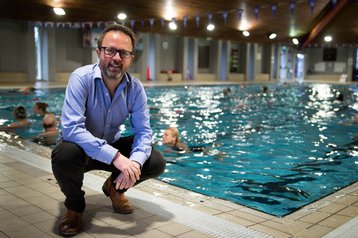 Civo is a cloud-native service provider offering services using the Kubernetes containerized software platform. It already has a partnership with Heata, a digital boiler company that is running a test service with some similarities to Deep Green. Heata provides even smaller compute units that will be installed in domestic hot water cylinders to run Civo workloads and heat water.
Deep Green has previously not given much detail on the compute work carried out on its systems, but Civo will be its exclusive partner selling capacity on the pool-based servers. The system runs on zero-carbon electricity and the swimming pool reuses some 90 percent of the energy, meaning each kWh of energy is effectively used twice.
As well as pools, Deep Green's digital boilers could be deployed at any organization that uses large amounts of heat, including food manufacturers and textile firms. The system has servers immersed in mineral oil, which captures the generated heat that is then passed through a heat exchanger to heat the water. 
Deep Green's compute capacity will be sold through Civo, which will offer "Deep Green" among its list of regions. Users selecting this will have their workloads run on the Deep Green system in Exmouth systems, or other installations in future.
"At Civo, we're firm believers that cloud shouldn't cost the earth," said Mark Boost, CEO of Civo. "That's why we're focused on making these solutions accessible to our customers. We all have a responsibility to reduce our carbon footprint."
Mark Bjornsgaard, founder of Deep Green said: "Energy is expensive, and precious. So many organizations and communities struggle to afford the heat they need to exist. Yet so much energy, so much heat, is wasted every day by data centers. We're excited to have Civo's customers join us on the journey. For too long, compute infrastructure has contributed to the problem of climate change. Now it can be part of the solution."