In a panel discussion on how to improve the energy efficiency of data centers held at at DCD>Webscale, Baselayer's Susanna Kass highlighted another concern - the dearth of women in the industry.
But this isn't just a moral issue, or one of equality. She suggested that solving it goes hand in hand with solving many of the sector's other great challenges, including that of energy efficiency.
New minds, new ideas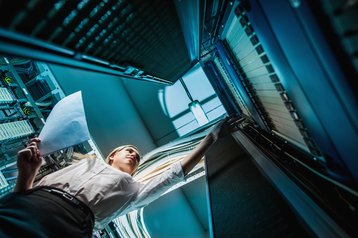 "This industry needs a kick in the butt, you need to have more women in here, and you need to have more millennials driving innovation," Kass, head of innovation and sustainability strategy at the modular data center and DCIM software company, said during DCD's event in San Francisco.
"Genuinely, the mind is a limiting factor. I'm not kidding, put women in a data center, or put a millennial in there, they will absolutely tell you things that are shocking to you, but is really obvious to them."
Diversity in leadership roles has been shown to improve business performance. Credit Suisse Research Institute studied 2,360 companies from 2005 to 2011, and found that organizations with female representation in top management saw an increase of $42 million in company valuation.
"A disruptive thinker is actually getting rid of the status quo. So, use us. And hopefully within your community, you've already got access to many of the disruptive thinkers, whatever gender they might be," Kass said. 
"Change is really important. A disruptive thinker doesn't care about looking backward, they actually make the news that other people read about."