After this year, it's fair to say that we all deserve a break. It's time to rest as much as we can, spend time with family if possible, and be thankful for what we have.
This holiday period is also a good time to catch up on reading, one of the best balms for our 2020 malaise. Now, while DCD's backlog of magazines and supplements may suit some, we know what you really need in these trying times: A whole new issue.
That's right, it may be just a month since our last magazine, but the time felt right for another issue.
On the cover, we take an exclusive look at NASA's plan to build an Internet for the Moon. We take a deep dive into the LunaNet and Tipping Point projects, learn about what takes to set up a 4G network on the lunar surface, and analyze what it could mean for humanity's hopes of a Solar System-wide Internet.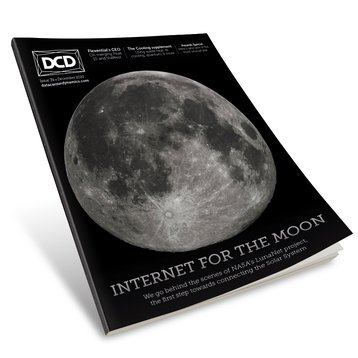 Flexential's CEO on creating a new company
Chris Downie discusses how he merged Peak 10 and ViaWest, and what the combined company hopes to do next. Plus, hear his thoughts on the Edge, Tier Two markets, and selling to hyperscalers.
IBM's hybrid realities
We talk to the CTO of IBM Cloud about its push into hybrid cloud services, and look back on a year that hasn't been kind to Big Blue
All about batteries
We take two different looks at how batteries could upend diesel generators. First, Andy Patrizio talks to colos about the limitations of the technology, the risks, and the costs, and then Sebastian Moss talks to Google about its plans to go all-in on batteries in Belgium.
The Awards special
We celebrate this year's DCD Awards winners. It's a shame we couldn't meet them all in person - and can't wait to see them soon.
The cooling supplement
A bumper holiday special: A 16-page supplement all about cooling, looking at the diverse approaches to cooling systems, how AI is changing temperature monitoring, and what we can do with our waste heat.
Plus we talk to the CEO of IonQ, and the heads of quantum computing at Intel and AWS about what it takes to cool a quantum computer.
There's more
The latest news, Peter's random factoids, the dangers of economic centralization, and more.
See you in the new year
Thank you so much for reading DCD's website and magazine this year, we hope we helped take your mind off of dark things and contextualized how the craziness of our time impacts this most special of industries.
Early next year, the DCD Editorial team is set to expand. We plan to cover more breaking news, talk to more fascinating individuals, and analyze more important trends than ever. We already have hundreds of articles in mind, but we are always open to new suggestions, critiques, or general feedback. If you have any, or just want to say hi, please get in touch.
Stay safe, stay positive, and help those around you. Let's all work together to make 2021 a much better year.