Customers should look for data centers which have the right network speed and latency, and which have a favourable environment for tax and regulations, a senior Alibaba architect told the DCD>Indonesia conference in Jakarta today.
It's also important to understand who is providing the actual service, as operators can use a chain of outsourced providers, said Leo Chen, a senior architect at Alibaba Infrastructure Services. Speaking at the event in the Ritz-Carlton Jakarta, Mega Kuningan, Chen explored the thorny issues of surrounding a choice of data center sites, or outsourced providers, basing his talk on visits to several data centers in Indonesia, and wide experience evaluating many facilities in the Asia Pacific region as well as Europe and the Middle East.
Start from business requirements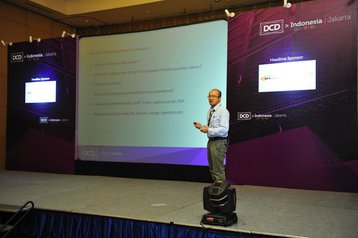 The first step to selecting an outsourced data center provider or data center site is to understand the business requirements and translate them into technical priorities, said Chen. One example would be the kind of latency that a service requires.
"Different applications have different requirements for the data center. [A mapping app] is not as sensitive to latency. If you are driving and encounter a 0.5 second latency, it won't be noticeable. But such latency won't be acceptable to gamers," he explained.
Some applications that are sensitive to latency would be cloud applications, e-commerce and financial applications, he said. Social media is more forgiving. Facebook, for example, doesn't have a significant data center in Indonesia, yet continues to serve customers within the country, he pointed out.
When it comes to narrowing down a country or state to set up in, the availability of tax exemption or rebate programs will obviously be a compelling factor, he noted.
Choosing a good data center
What makes a good data center from a technical perspective? Chen walked through a list of features and capabilities that should be found in an ideal data center, but cautioned that not everything is about specifications.
To illustrate his point, Chen highlighted how it is possible to get good network connectivity quickly in mature parts of Hong Kong, but less developed areas could entail a wait of two to three years to get new capacity.
It is also important to understand the real vendors behind a colocation data center, said Chen. Some operators outsource parts of their data center operations such as maintenance of cooling facilities, and in this case, customers need to to verify that this work is being performed by a competent vendor. Some "operators" do not even own the facility, but are actually resellers. Customers should verifywho the vendors are, he said. 
You can read more about selecting an outsourced data center in our earlier interview with Chen here.