Despite their vaunted efficiency, and a preference for renewable energy, a wave of hyperscale data centers being built in Denmark will considerably increase the overall carbon emissions of the country, according to a government memorandum obtained by the newspaper Politiken.
Denmark is a leader in the shift to renewable energy sources: it is currently getting 30 percent of its energy from renewables, and has announced plans to move completely to green energy by 2050. Ironically, this (along with Denmark's efficient urban planning process) has lured webscale companies such as Facebook, Google and Apple  to the country, along with other less-known players. The government memo suggests that their power consumption may overtake the country's ability to increase its renewable capacity, and push its efforts into reverse, increasing emissions by ten percent in the years to 2030.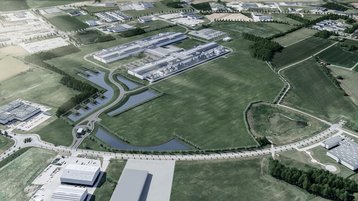 Reaping the whirlwind
Denmark has some 6.5GW of renewable electricity capacity, mostly from wind farms (4.9GW), with 1GW from waste digesters, and smaller amounts from solar and hydro, according to government reports via Wikipedia. That's 30 percent of its total energy usage, and 60 percent of its electricity consumption.
Denmark has three coal-fired power stations, which it plans to switch off by 2030. The plan to get all of its energy from renewable sources by 2050 is particulary ambitious, since it includes transport (one-third of its energy usage) and heating. Nearly a half of Denmark's energy is spent on heating - but much of that is recycled heat delivered by district heating systems. 
When operators like Apple open up in Denmark, they often proudly proclaim they are using green energy, but this is usually obtained through a green tariff. The actual renewable energy in the grid varies according to the wind's strength, and is determined by how much capacity is installed. 
Data centers paying to use green energy are indeed promoting the use of renewables, according to reports. But in a country like Denmark, which is already moving quickly towards green energy, this can have a negative effect. When organizations use green energy in such a constrained market, it has the effect of pushing other users onto fossil fuels, because the overall renewable production is limited by how fast Denmark can build wind farms, and how well it can use their output. 
"There is no way that existing renewables facilities could hope to meet the prospective demand from data centers," said Citylab in a report on the Danish government memo. "That means the country will have to generate power using more conventional, polluting sources, including coal."
A hyperscale data center could require more than 200MW of power, and the Danish government says a new facility of this size might use four percent of the country's power capacity. The report projects six new data centers could open in the next twelve months, and the new capacity required could have a disproportionately high impact on emissions - because of the already low levels of fossil fuel use.