Generator manufacturer Cummins has seen business drop across the board due to the Covid-19 pandemic - except in the data center sector.
The company is facing lower demand, supply chain uncertainty, and the temporary closure of some factories due to the virus and associated lockdowns.
It reported $511 million in revenue in the first quarter of the year, down from $663m during the same period last year.
Difficult times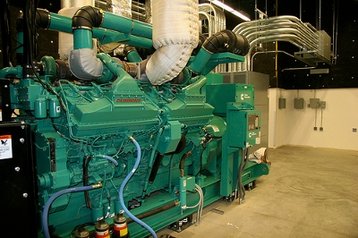 Engine sales for trucks, construction equipment, and related markets all dropped significantly. Demand for engines in oil and gas markets was among the worst hit, with an 81 percent decrease.
Demand for Cummins gensets has "diminished and competitiveness has increased across the market, that's just been a reality we've been dealing with for some time," CEO Tom Linebarger said in an earnings call (via SeekingAlpha).
"We worked very hard over the years to try to right-size the the generator set business to what has been clearly a changed environment in terms of demand across the world, with the notable exception being data centers, which has been pretty robust."
In China, demand for power generation equipment declined by 12 percent in the first quarter, primarily due to Covid-19. But, Linebarger added, "demand from data center customers in China remains robust."
The deterioration of the genset business "was a big impact," Linebarger said. "And we are trying to figure out how to get the business right-sized for when we come out of this downturn and make sure that we're positioned from a cost structure point of view for that. But we do believe that business will return strongly and we think it will be a good business [in the] long run for Cummins."
Cummins said that the pandemic impacted its production of equipment in early February, "and the majority of our facilities experienced shutdowns of four to six weeks in length," Linebarger added. "All of our manufacturing facilities in China were fully operational by the end of the first quarter, and we have experienced high levels of demand since reopening as OEMs prepare for a rebound in demand." Separately, the company announced plans to re-open its Indiana, US, plants on May 4.
"On the supply chain side, we've been dealing with disruption in the supply chain really since China shut down in early February," Cummins COO Tony Satterthwaite said. "I think our global network has proved very valuable to us in that we've been able to move production around and we've been able to mitigate a large number of issues. So we are managing through this fairly well and doing our best to deal with the issues that are coming up every day."
April, in particular, has been a difficult month for the company, Cummins CFO Mark Smith admitted. "April is completely unprecedented like I think in my [25-year] career in Cummins in the sense of such a high proportion of our customers, suppliers, and of course, some of our own operations shut down.
"I think it's just going to be so unique. Hopefully, it doesn't repeat in the remainder of the year. But there's such a level of uncertainty about the pace of start-up [when lockdowns end]"
Smith said that "there's no doubting our inventories were impacted in March as we started to face all of these disruptions and shutdowns."
But the company said that it is well-positioned to weather any immediate economic woes, with cash, cash equivalents, and marketable securities of $2 billion and has committed borrowing capacity of $1.9 billion under existing revolving credit facilities.