CtrlS has broken ground on a new data center in Guwahati, Assam.
Shri. Keshab Mahanta, IT Minister of Assam, this week laid the foundation stone of the data center in Tech City Park in Guwahati, in India's northeast.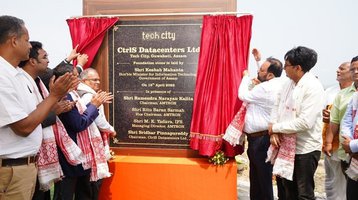 The new facility will be spread over three acres and will have an initial capacity of around 1,000 racks; it will be expanded to house more than 2,000 racks over the next 12-18 months.
Also in attendance at the ceremony were Himanta Biswa Sarma, Chief Minister of Assam, Ramendra Narayan Kalita, Chairman, Amtron, Sridhar Pinnapureddy, founder and CEO of CtrlS Datacenters, and Anurag Goyal, IAS, Principal Secretary, Assam.
CEO Pinnapureddy said: "We are proud to be associated with the State Government of Assam and work together towards furthering the Digital Assam initiative and thank the Chief Minister of Assam, Shri. Himanta Biswa Sarma, and IT Minister of Assam, Shri. Keshab Mahanta for the extraordinary support being extended to us in bringing the Rated-4 data center in Assam.
"At CtrlS, we stay committed to building world-class data center infrastructure in the State of Assam and Northeast India and provide best-in-class services to the government, enterprises, small and medium enterprises by bringing the applications closer to the end-users in the State and the northeastern region."
CtrlS currently operates four facilities in Mumbai, two in Hyderabad, and one each in Bangalore/Bengaluru and Noida, totaling more than 1 million sq ft.
The company aims to expand its footprint to six million square feet in the next 24 months with new facilities in Hyderabad – where it recently broke ground on a new facility – as well as Chennai and Mumbai, and hopes to expand internationally.
CtrlS also aims to establish 500 Edge data centers in tier-2 and tier-3 cities across the country in phases. The company also plans to develop a 500-acre solar plant to power its operations with renewable energy.
During the stone laying ceremony, Minister Mahanta said: "We are happy to have CtrlS onboard as our partner and we are certain to benefit from the experience and expertise CtrlS brings through the numerous data center projects it has undertaken globally. We are also planning to release the most investor-friendly State DC policy in India in the next few days, which should help attract more investors."