HPC company Cray and data center operator Markley Group will partner to provide supercomputing-as-a-service solutions.
The Boston-based data center company will offer Cray's supercomputing tech as a hosted offering, and both companies will work together on industry-specific solutions.
A Urika moment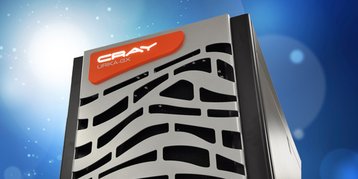 To start, Markley will offer access to the Cray Urika-GX for life sciences with the Cray Graph Engine integrated.
The Urika-GX is a 42U rack with 16/32/48 2-socket Intel Xeon E5-2600 v4 family processor nodes - that's up to 1,728 cores per system - accompanied by up to 22TB of RAM, up to 176TB of storage on PCIe SSDs and 192TB of HDD-based storage.
"The need for supercomputers has never been greater," Patrick W. Gilmore, CTO at Markley, said.
"For the life sciences industry especially, speed to market is critical. By making supercomputing and big data analytics available in a hosted model, Markley and Cray are providing organizations with the opportunity to reap significant benefits, both economically and operationally."
Fred Kohout, Cray's SVP of products and CMO, added: "Cray and Markley are changing the game. Now any company that has needed supercomputing capability to address their business-critical research and development needs can easily and efficiently harness the power of a Cray supercomputer."
The partners plan to make additional Cray supercomputers acessible through the service in the future.
Chris Dwan, who led research computing at the Broad Institute and the New York Genome Center, said: "Research and development, particularly within life sciences, biotech and pharmaceutical companies, is increasingly data driven. Advances in genome sequencing technology mean that the sheer volume of data and analysis continues to strain legacy infrastructures.
"The shortest path to breakthroughs in medicine is to put the very best technologies in the hands of the researchers, on their own schedule. Combining the strengths of Cray and Markley into supercomputing-as-a-service does exactly that."