RTI Connectivity (RTI-C) and Japanese technology giant NEC have begun construction on a new 3,900km submarine cable between the data center hub of Hong Kong and the island of Guam.
The Hong Kong-Guam (HK-G) cable system is slated to land at Tseung Kwan O (TKO). The other landing station will be located in Piti, Guam, at the same facility as the SEA-US (Southeast Asia-United States) cable system.
Built with 100Gbps optical transmission capabilities, HK-G has a total design capacity of more than 48Tbps. It is expected to be completed in the fourth quarter of 2019.
The interconnectedness of all things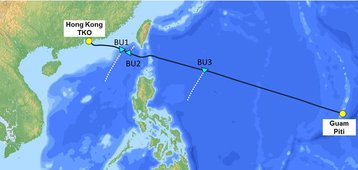 HK-G is expected to contribute to the expansion of communications networks between Asia and the United States, and complement regional submarine cables to offer network redundancy and increase availability in order to support bandwidth growth in Asia.
According to NEC, the HK-G is the first project that is co-financed by utilizing capital from the Fund Corporative for the Overseas Development of Japan's ICT and Postal Services Inc (Japan ICT Fund), as well as loans from various Japanese institutions.
Launched in 2015, the Japan ICT Fund was established with a starting capital of 3.744 billion yen (US$6.8 billion), with the stated purpose of strengthening Japan's international competitiveness in ICT.
The fund will help Japanese companies alleviate some of the inherent political and business risks, as they offer packaged ICT services to emerging economies in Association of Southeast Asian Nations (ASEAN) by developing, operating and maintaining infrastructure.
"Hong Kong is already an important interconnection point for undersea cables, and Guam is emerging as a key telecommunications hub. By extending HK-G to our SEA-US cable investment in Guam, RTI-C is facilitating a new diverse 100G transpacific cable to better serve our customers' traffic requirements between Asia, the United States and Australia," said Russ Matulich, president and CEO of RTI-C.
"RTI-C's existing investments, and those under current consideration, will enable other cable owners to better utilize their assets by interconnecting with RTI-C in Hong Kong or Guam," he said.